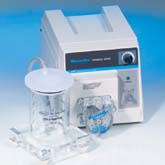 Need Help?

More Information

Spare Parts and Accessories
Ultralab Systems with 115 V pump
Ultralab Systems with 230 V Pump
Ultrareservoir Containers
Description
Simplify Processing of 100 mL to 5 L Volumes When Using the Ultrasette™ Device
Self-contained siphoning units allow continuous buffer exchange
Uses less liquid with less handling and mess than conventional dialysis systems
Constructed of clear acrylic with easy-to-read volume graduations
Connections located in base plate for easy access and minimal sample hold-up
Feed pressure gauge monitors sample processing
Three-way sampling valve allows maximum sample recovery without decanting
Peristaltic pump action minimizes shear of sensitive molecules, eliminates air in the system, and reduces foaming
A variable speed controller allows precise adjustment of crossflow during sample processing
"Pall Laboratory products are designed for laboratory applications only. This product is not approved for use in medical, clinical, surgical or other patient applications. If you require further assistance in product selection for your chosen application, please email us a question or call 1-800-521-1520."