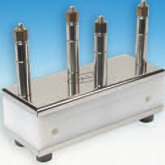 Need Help?

More Information

Cassettes
Centramate Cassettes with Supor Membrane - Suspended Screen
Centramate Fitting Packages
Holders and Accessories
Description
Suitable for Process Development and
Small-Scale Production of 1 to 125 L
Filtration area is easily expanded by adding additional membrane cassettes
Identical fluid path lengths provide precise linear scale-up to larger process systems available from Pall Corporation
Cassettes can be easily removed without disassembling system plumbing
Systems are available with Type 316L stainless steel (Centramate system) or economically priced, extremely durable, ultra-high molecular weight polyethylene (Centramate PE system)
Variety of membrane types provide versatility to the systems

"Pall Laboratory products are designed for laboratory applications only. This product is not approved for use in medical, clinical, surgical or other patient applications. If you require further assistance in product selection for your chosen application, please email us a question or call 1-800-521-1520."