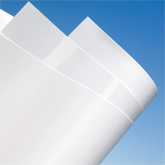 Need Help?

More Information

Description
For Highly Efficient Sample Clarification





Asymmetric membranes provide fast flow, low pressure drops, and highly consistent flow rates in applications such as prefiltration and clarification. Asymmetric membranes are different from conventionally cast microporous membranes in that the larger pores on the upstream side of the membrane act as a prefilter while the absolute rated downstream side, or exclusion zone, act as an absolute cut off layer. This is in contrast to traditional microporous materials which have comparable pore sizes on both the upstream and downstream sides of the membrane. The graded nature of asymmetric membranes results in a sidedness to the membrane, requiring knowledge of the upstream side of the membrane for optimal performance.
Our portfolio of asymmetric membrane includes two media types for optimal performance.
Asymmetric Sub-Micron Polysulfone (BTS)
BTS membranes are made of polysulfone using a patented process exclusive to Pall Corporation resulting in a highly asymmetric membrane with pores that gradually decrease in size from the upstream side to the downstream side. The "cut-off" layer of the BTS membrane is only about 10 µm thick, versus conventional membranes with cut off layers of approximately 100-125 µm in thickness. This differential gives the BTS highly asymmetric membrane significantly higher flow with a much lower pressure drop. The BTS asymmetric membrane is well suited for prefiltration and lysate clearing applications.
Asymmetric Super Micron Polysulfone (MMM)
MMM membranes are super micron filters which have pore sizes ranging from 0.1-10 µm. Featuring a patented asymmetric pore structure, these media are highly porous and inherently wettable. The MMM family of asymmetric membranes are low protein binding and have been certified to comply with United States Pharmacopeia (USP) Biological Reactivity Test, In Vivo <88> for biological safety. This membrane can be gamma sterilized and is well suited for sample preparation, prefiltration, and blood glucose applications.