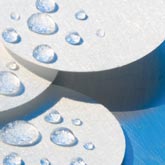 Need Help?

More Information

Description
For Venting and Air/Gas Filtration Applications




Our family of hydrophobic glass fiber media is comprised of a glass fiber matrix, including a high performance binder cast on various support matrices. The support matrices include cellulose, polyester, polypropylene, and a woven glass fabric. The materials are post-treated with a patented process rendering them both hydrophobic and oleophobic.
The use of hydrophobic glass fiber media as a vent filter can be used in applications that require exchange of gases while reducing the risk of airborne bacterial contamination. For example, hydrophobic glass fiber media can be used to allow air to enter and exit vessels such as bioreactors, isolation or environmental chambers, fermentation tanks, carboys, and other small containers. Similarly, hydrophobic glass fiber materials can be used in-line for low-pressure air/gas delivery to instruments and culture vessels, bioisolation of a vacuum source, flushing instruments, and cleaning parts.
Increasingly, the use of a hydrophobic material as a vent in finished devices and equipment is necessary to provide a barrier to airborne microbial contaminants. The need to protect workers, patients, and equipment from harmful aerosolized contaminants necessitates effective vent filtration. Hydrophobic glass fiber media yield high air flow rates with adequate filtration efficiency ratings at an economical cost point.