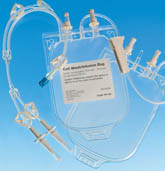 Need Help?

More Information

Description
For the thaw/washing and subsequent infusion of previously frozen cord blood stem cells as developed by the New York Blood Center.
1, 2*
This two-bag set is designed to achieve a slow asymptotic reduction in osmotic pressure of the cryoprotected white cells to the appropriate level for transfusion. Set reduces the DMSO content of the final stem cell transfusion to less than one gram. Each sterile set consists of two transfer bags joined by integral tubing, and three connector lines (two spikes and one luer).  Designed specifically for use with the freezing bag of the Transfer/Freezing Bag Set (PN 791-02) and the Freezing Bag (PN 791-05). Components include:
Two 250 mL capacity transfer bags. One 250 mL transfer bag is used for thawing the frozen unit with a Dextran/albumin solution. The second 250 mL transfer bag receives supernatant from the concentrated stem cells.1, 2*
Two multiple-use sampling sites.
Rubinstein, P.; Dobrila, L.; Rosenfield, R.E.; Adamson, J.W.; Migliaccio, G.; Migliaccio, A.R.; Taylor, P.E.; Stevens, C.E. Processing and Cryopreservation of Placental/Umbilical Cord Blood for Unrelated Bone Marrow Reconstitution. Proc Natl Acad Sci USA. 1995, Oct 24;92(22):10119-22.
Fraser, J.K.; Cairo, M.S.; Wagner, E.L.; McCurdy, P.R.; Baxter-Lowe, L.A.; Carter, S.L.; Kernan, N.A.; Lill, M.C.; Slone, V.; Wagner, J.E.; Wallas, C.H.; Kurtzberg, J. Cord Blood Transplantation Study (COBLT): Cord Blood Bank Standard Operating Procedures. Journal of Hematotherapy. 1998, 7(6):521-61.
*SOP available at the EMMES website: http://spitfire.emmes.com/study/cord/