For the long-term storage of 25 mL of cryopreserved, concentrated blood components. Each sterile set consists of a two-compartment, three-dimensional 25 mL freezing bag and a tubing lead terminating in a spike. The freezing bag has been designed to assure a homogenous, controlled freezing rate for maximum cell viability. The design simultaneously reduces the possibility of bag breakage from thermal, dynamic or expansion forces.
Freezing bag is compliant with AABB Standard for integral
segments cryopreserved with product, enabling additional testing prior to transfusion.
Two separable compartments allow for a 4:1 division of contents, allowing a consistent volume aliquot for ex vivo cell expansion.

Compatible with liquid nitrogen (LN2) storage. Three-dimensional bag design ensures a homogenous, controlled freezing rate for maximum cell viability.

Freezing bag is uniquely compatible with DMSO/Dextran and liquid nitrogen storage in ThermoGenesis Corporation's BioArchive*

System.

Compatible with the Cell Wash/Infusion Bag Set (PN 791-03,

PN 791-03U

).

Bag sold separately for connection to other processing sets.

Tubing is RF or heat sealable.
*BioArchive is a registered trademark of ThermoGenesis Corporation.
Product No.
791-05, 791-05U
Description
Freezing Bag
Fill Volume Range
Up to 25 mL
Port Configuration
In-line spike
Materials of Construction
Bags: Ethyl vinyl acetate, a copolymer of polyethylene; Tubing: Ethylene vinyl acetate
Bag Size(s)
8.84 cm length x 7.04 cm width x 0.74 cm depth (3.48 in. length x 2.77 in. width x 0.29 in. depth)
Sterilization
Gamma
Packaging
Four sterile bags packaged in a plastic pouch; 48/box
Shelf Life
3 years
Traceability
Lot number
Regulatory Status
FDA 510(k) cleared: 791-05
CE marked: 791-05U
791-05U : Canadian medical device license #101437
Application
For the long-term storage of 25 mL cryopreserved concentrated blood components. 
Advanced Bag Designs Meet Rigorous Industry Standards
Cord blood stem cells
have been effectively used in the treatment of more than 70 malignant and non-malignant diseases, including sickle cell, leukemia, non-Hodgkins lymphoma, other forms of cancer, life-threatening anemias, and autoimmune diseases. As a key supplier to the cord blood banking industry, Pall provides a full range of bag sets that are used to prepare the cord blood stem cells for treatment. Pall's collection and processing sets are manufactured to cGMP using validated manufacturing processes that ensure safe, consistent and reliable product performance. Each bag is 100% inspected prior to release and is fully traceable by lot number. Pall's bag sets are uniquely designed to facilitate closed system processing of cord blood stem cells by the volume reduction method developed at the New York Blood Center.
1
Volume reduction maximizes limited storage space while closed system processing minimizes sample loss and reduces the risk of contamination during handling. This method results in a high quality sample available for transplantation. Assessment of stem cell content and viability after long-term storage is a critical step prior to a successful transplantation. International standards recommend storing a cell sample attached to a unit of cord blood for quality control testing. Pall's freezing bag includes sufficient tubing for the preparation of segments, enabling a sample aliquot to be cryopreserved with the final product. Using a tube segment for quality control testing prior to transplantation reduces the risk of contamination during the thawing process and provides critical information needed to predict treatment success.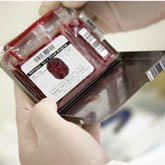 For disease treatments or patient populations that require a higher cell dose to be transplanted, Pall's advanced freezing bag design divides the sample into two compartments, facilitating transfusion of 80% of the stem cells while retaining 20% of the stem cells for ex vivo cell expansion. Scientific advances in our ability to amplify stem cells will greatly expand the applications for hematopoietic stem cells from cord blood.
1. Rubinstein, P.; Dobrila, L.; Rosenfield, R.E.; Adamson, J.W.; Migliaccio, G.; Migliaccio, A.R.;Taylor, P.E.; Stevens, C.E. Processing and Cryopreservation of Placental/Umbilical Cord Blood for Unrelated Bone Marrow Reconstitution. Proc Natl Acad Sci USA. 1995, Oct 24;92(22):10119-22.
Facilitate each step in the collection, processing, freezing and transfusion process for cord blood stem cells to ensure a safe, reliable, robust process. See these other Pall products for the collection, processing and cryopreservation of blood and cellular components:
Product Code
Product Code (Europe,Canada)
Description
Packaging
791-05
791-05U
Freezing Bag
48 units/case
To Order, Contact:
Pall Medical
Tel: 877.367.7255
Fax: 888.556.7337
uscustomerservice@pall.com
Pall Europe Ltd
Europa House, Havant Street
Portsmouth, PO1 3PD England
Tel: +44 (0)23 9230 3452
Fax: +44 (0)23 9230 3324
Biosvc@Pall.com
Pall Canada
Pall Canada Ltd.
3450 Ridgeway Drive, Unit 6
Mississauga, ON L5L 0A2
Canada


Access our complete list of Pall offices worldwide.