Blended Fiber for Plasma Separation from Whole Blood



Composed of a patented blend of natural and synthetic fibers, CytoSep membrane is designed to separate plasma from whole blood. The media is intended for use in applications where less than 100 µ of whole blood would be applied to the surface of the material. The single layer nature of the media retains the red blood cells on the surface while the plasma, along with the platelets and leukocytes, move through the fibrous matrix. Plasma can be separated using the CytoSep membrane both vertically and laterally and can be optimized by the thickness of the material selected. Plasma generated by the CytoSep membranes will exhibit some hemolysis following filtration. The composite material does not contain binders or chemicals that may interfere with analyte measurements in diagnostic assays. Stronger than binder-free glass fiber, and available in a variety of thicknesses, CytoSep membrane can be easily manufactured in a variety of in vitro diagnostic test formats with minimal material scrap.
Typical Membrane Characteristics
Grade
Base Material
Typical Thickness (mils)
Typical Thickness (µm)
Basis Weight (g/m2)
1660
Proprietary blend of natural and synthetic fibers
9.6-15.7
243.8-398.8
62.2-84.4
1662
Proprietary blend of natural and synthetic fibers
22.0-26.0
558.8-660.4
137.1-147.6
1663
Proprietary blend of natural and synthetic fibers
34.0-48.0
863.6-1219.2
203.9-263.6
Typical Performance Characteristics
Grade
Base Material
Micron Rating
Tensile Strength (lbs/in MD)
Recommended Separation
1660
Proprietary blend of natural and synthetic fibers
2.8 µm
3.8
Lateral
1662
Proprietary blend of natural and synthetic fibers
3.5 µm
7.1
Lateral
1663
Proprietary blend of natural and synthetic fibers
3.4 µm
---
Lateral and/or vertical
Applications
Sealing
Mechanical
Adhesive
Lamination
Insert molding
Grade
Recommended Blood Volume ( µ)
Total Absorption of Blood*
Average Time for Plasma to Appear (sec)
Average Distance of RBC Front (mm)
Average Distance of Plasma Front (mm)
Total Distance Traveled (mm)
Area of Effect Containing RBC (%)
1660
20
630%
67.5
15.63
22.13
22.13
70.6
1662
30
475%
64.25
7.75
24.5
24.5
31.6
1663
40
455%
133.75
0
27.25
27.25
0
*(% blood wt/CytoSep wt +/- 50%)
Superior Plasma Separation Over Glass Fiber Materials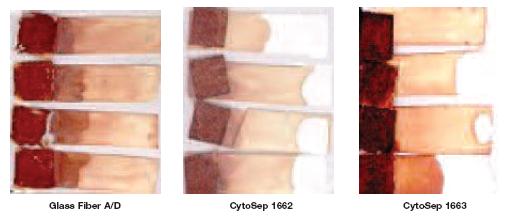 Picture depicts the images of test strips composed of blood separation media on top of an analytical membrane after completion of blood separation. In order to assess the media's ability to separate plasma from red blood cells, a 7.5 x 7.5 mm strip of media was placed on top of a piece of analytical membrane (30 mm x 7.5 mm) inside a Hemasep V housing. A known volume of blood (average hematocrit 44.1%) was then applied slowly in a drop-wise manner to the blood separation media. Volume added to the media was 60 µ for Glass Fiber A/D, 30 µ for CytoSep 1662, and 40 µ for CytoSep 1663. Notice that the red cell front is present on the analytical membrane after blood separation by glass fiber media while no red front is seen on the membrane after separation by either CytoSep media.
Custom roll, sheet, and disc sizes available upon request. Please contact your local sales representative for additional information.
Part Number
Description
Pkg
S70002
CytoSep Media Grade 1660, 8" x 10" sheet
1/pkg
S70004
CytoSep Media Grade 1662, 8" x 10" sheet
1/pkg
S70005
CytoSep Media Grade 1663, 8" x 10" sheet
1/pkg