For Molecular Diagnostics


Our patented leukocyte removal medium is a highly wettable, fibrous matrix designed for use in procedures requiring isolation of leukocytes from whole blood samples. Whole blood samples can be applied to the top of membrane and allowed to pass through the filter matrix either by gravity or pressure. If using a pressurized filtration system, care must be employed not to lyse the red blood cells resulting in hemoglobin contamination. As the whole blood samples pass through the membrane, the leukocytes are isolated from the sample and become trapped within the fibrous matrix of the membrane. A visual representation of leukocyte removal is depicted graphically in the performance section.
The material is intended for use in assays involving analysis of the filter effluent, or direct analysis of the trapped white blood cells. It is an optimal choice for use in assays that may require the removal of white blood cells from samples to eliminate interferences. If the assay requires the analysis of the leukocytes or nucleic acid components, a variety of extraction and detection systems may be applied depending on the assay requirements. The medium can be used to trap leukocytes and extract nucleic acid samples, which can then be prepared for use in polymerase chain reaction (PCR) applications.
Typical Membrane Characteristics
Base Material
Pore Size (µm)
Thickness (mils)
Thickness (µm)
 Proprietary
 8.0
 14.0-22.0
 355.6-558.8
Typical Performance Characteristics
Base Material
Leukocyte Immobilization
Leukocyte Retention Post Wash
Hold-Up
 Proprietary
 40-80%
 70-80%
 40-70 µL/cm2
Wet time: < 5.0 seconds
Applications
Leukocyte removal
Molecular diagnostics
DNA prep prior to PCR
Sealing
Leukocyte Removal from Whole Blood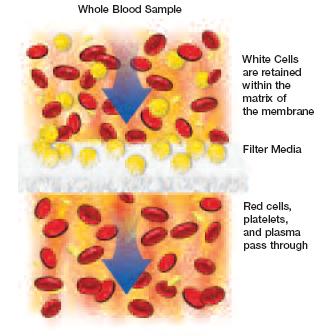 Removal Efficiencies of White Blood Cell Isolation Media
Sample
Total Leukocytes
(x 109 L)
Percent Removal (%)
Lymphocytes
(x 109 L)
Percent Removal (%)
Whole Blood Control
6.5
N/A
2.7
N/A
Membrane Filtered Sample 1
3.6
44.2
2.0
24.5
Membrane Filtered Sample 2
3.9
39.5
2.0
24.5
Membrane Filtered Sample 3
3.5
45.7
2.0
24.5
Membrane Filtered Sample 4
3.7
42.6
2.0
24.5
Sample
Mid-Range Leukocytes
(x 109 L)
Percent Removal (%)
Granulocytes
(x 109 L)
Percent Removal (%)
Whole Blood Control
2.0
N/A
1.8
N/A
Membrane Filtered Sample 1
0.9
56.1
0.7
42.9
Membrane Filtered Sample 2
1.1
46.3
0.8
54.3
Membrane Filtered Sample 3
1.0
51.2
0.5
40.0
Membrane Filtered Sample 4
1.1
46.3
0.6
52.2
Filtration, Separation, Removal, Diagnostics
Custom roll, sheet, and disc sizes available upon request. Please contact your local sales representative for additional information.
Part Number
Description
Pkg
BSP0669
White Blood Cell Isolation Media, 8" x 10" sheet
5/pkg