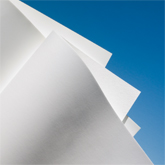 Need Help?

More Information

Description
For Biomolecule Capture




Pall's family of ion exchange membranes utilizes the principles of sorbent-based ion exchange chromatography on flat stock membrane. This provides ease-of-use and handling benefits over resin-based slurries in a manufacturing environment. Our ion exchange membranes deliver efficient and rapid flow rates with a convective pore structure resulting in processing times that are much shorter and more efficient than conventional resin-based technologies even when purifying large molecules such as plasmids and viruses. Optimization of our ion exchange membranes has resulted in throughputs of up to 100 times that of traditional resin-based media with no associated loss of capacity.
Our ion exchange membranes are available in two chemistries: Q and S. The strong anion exchange membrane (Q chemistry) is ideal for the capture/release of plasmid DNA, virus or target proteins from a complex mixture. The Q chemistry is also well suited for purifying oligos and the protein polishing of negatively-charged proteins. The strong cation exchange membrane (S chemistry) purifies and concentrates positively-charged proteins and viral particles.
Note: The capture of biomolecules is typically done in the presence of low salt. Due to the nature of our ion exchange membranes, they are more salt sensitive than the same chemistries on beads. This should be considered when choosing the buffers for capture and elution.