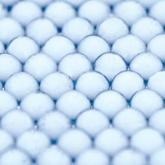 Need Help?

More Information

Description
For Biomolecule Isolation


Chromatography continues to be an essential technology for the purification of biomolecules. In chromatography, a complex sample is passed through a chromatographic matrix that consists of a solid support with specific characteristics defined by the support's make-up and/or chemistry. The type of support chosen will depend on the nature of the purification desired. Pall offers a competitive portfolio of resins for affinity, ion exchange and hydroxyapatite chromatography. Our resins can be incorporated into devices to cover a variety of research needs or they can be used in conjunction with one of our microporous membranes for diagnostic test development.
When performing chromatography-based purification, the choice of resin is crucial for ensuring effective capture (binding selectivity/capacity) and sufficient separation (resolution). Pall offers a variety of base materials ranging from soft beads to rigid beads to a unique hybrid bead. Our hybrid beads are created using Pall's patented "gel-in-a-shell" technology. This "gel-in-a-shell" bead is constructed of a high-capacity hydrogel polymerized within the gigapores of a rigid ceramic bead. The capture chemistry, or ligand, is attached to the hydrogel within the bead pores.
| | |
| --- | --- |
| Gel-in-a-Shell Technology | Using enhanced diffusion, Pall's "gel-in-a-shell" technology binds product throughout the gel-filled pore, enhancing total binding capacity. |
The advantages of this structure are many, including higher than usual capacity, tolerance to fast chromatography runs without the usual increase in back pressure, and greater salt tolerance for ion exchangers. By tailoring attributes to specific applications, Pall chromatography resins exhibit the highest performance characteristics possible while ensuring reliable, reproducible biomolecule isolation.