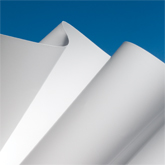 Need Help?

More Information

Description
For Sample Preparation





Hydrophilic polyvinylidene fluoride (PVDF) membranes are commonly used in a variety of general filtration and sample preparation applications. Pall has multiple options for hydrophilic PVDF membrane available targeting specific applications ranging from sterile filtration to biological sample preparation to organic mobile phase filtration. All of the options available can be autoclaved and gamma sterilized as well as exhibit low biomolecule binding characteristics.
For sterile and general filtration applications, our unique, modified hydrophilic polyvinylidene fluoride (PVDF) membrane with ultra low binding properties, broad chemical and temperature resistance, and high flow rates is an excellent choice. The membrane is available in a 0.45 µm retention rating filtration of viscous fluids and prefiltration, 0.2 µm rated for sterilization, and 0.1 µm rated for sterilization and mycoplasma removal. We recommend using our hydrophilic PVDF in applications such as multi-plexed bead-based assays, the filtration of dilute protein samples, cold and hot Water For Injection (WFI), chemicals, aggressive solvents and sanitizing agents.
"Pall Laboratory products are designed for laboratory applications only. This product is not approved for use in medical, clinical, surgical or other patient applications. If you require further assistance in product selection for your chosen application, please email us a question or call 1-800-521-1520."