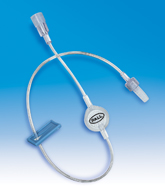 Need Help?

More Information

Description
Neonatal air-eliminating filter set for 96-hour bacterial and endotoxin retention
The Posidyne NEO Intravenous Filter Set features the 0.2 μm Posidyne NEO air-eliminating filter. The ultra low filter volume enables rapid delivery of bolus medication and minimum fluid hold-up. The 0.2 μm Posidyne membrane offers patient protection against particles, microbes, associated endotoxin, and entrained air.
Product Features
0.2 μm Posidyne Membrane – Provides documented 96-hour bacterial and inadvertant bacteria-associated endotoxin retention for patient protection 
Slim, low-profile housing design – Provides low hold-up volume
Surfactant-free hydrophilic Posidyne membrane – Permits easy priming
Small, round housing – Easy to secure and comfortable for the patient 
Guideline compliance – Meets INS,1 NAVAN,2 ASPEN,3 and FDA4 guidelines
Note: This product is not currently available for sale in Canada.