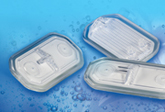 Need Help?

More Information

Description
Specially Engineered Device
For High Flow Rate Applications
Optimized 0.2 µm Supor® membrane achieves 23% higher flow rates for shorter infusion times.
100% bacterial retention* provides added safety and patient protection.
High capacity dual vents for faster repriming times and orientation-independent venting.
Same materials of construction as IV-3 filter simplify validation requirements.
Maximizes delivery of critical drugs with proven low drug binding Supor membrane to increase dosing accuracy.
* 0.2 µm Supor membrane is retentive of B. diminuta and meets USP 25/NF20 requirements for a sterilizing grade filter per ASTM F838-83 test methods.