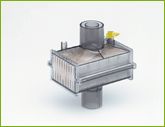 Need Help?

More Information

Description
Pleated hydrophobic membrane
100% retentive for liquidborne contamination
Latex safety
Compatible with nebulisation
Versatile application
Individually integrity and efficiency tested during manufacture
Validated for removal of Hepatitis C Virus, HIV,
Mycobacterium tuberculosis and Staphylococcus aureus
Clinical and Technical Features
Effective hydrophobic barrier: The Pall pleated hydrophobic membrane provides effective protection against potential contamination by airborne and liquidborne microorganisms.1 - 5 The Pall filter has been specifically validated to remove Hepatitis C virus1, HIV2, Mycobacterium tuberculosis3 and Staphylococcus aureus4.

All Pall Breathing System Filters contain the proprietary Pall fine hydrophobic filter medium, which has been tested in manufacturing to show a water intrusion pressure (hydrophobicity) in excess of 50 cm water column.

Routine use of the Pall BB22-15 at patient end will protect the interior of the breathing system from patient derived contamination, allowing extended use of the breathing system in conjunction with a hospital protocol that ensures hygienic and mechanical integrity of the system. Please refer to your breathing system manufacturer for information on whether the system being used has been validated for extended use.
Latex safety: The Pall BB22-15 is free of natural rubber latex. It has been tested to retain natural rubber latex allergens in liquids and contained in airborne particles.6,7
Compatible with nebulization: Medications can be nebulised between the patient and the filter.
Versatile: Can be used as a Heat and Moisture Exchanging Filter (HMEF) or as a ventilator filter.
Pall Total Quality and Performance Guarantee
Each Pall BB22-15 Breathing System Filter is individually tested during manufacture for:
Filter Integrity: assuring housing and seal quality
Filtration Efficiency: using a non-destructive test, assuring membrane quality
Product Validation Certificate
That is batch and customer specific is provided that details testing and validation.
This is the customer's guarantee of 100% reliability, performance in use and assurance of protection of breathing systems and equipment, patients and staff.
References
1. Lloyd G et al. Anaesthesia and Intensive Care 1997;25:235-8.
2. Lloyd G et al. Centre for Applied Microbiology and Research, 1997.
3. Speight S et al. Centre for Applied Microbiology and Research, 1995.
4. Rosales M et al. 2nd Int Conf on Prevention of Infection, Nice, France, 4-5 May, 1992.
5. Hedley RJ & Allt-Graham J. Anaesthesia 1992;47:414-20.
6. Barbara J et al. Anaesthesia 2001;56:231-234.
7. Chen Z & Capewell A. Scientific and Laboratory Services Report. Pall Europe 2000.