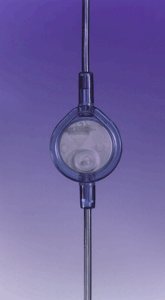 Need Help?

More Information

Description
The Pall Lipipor NEO filter has a 1.2 μm polyethersulfone membrane for use in paediatric and neonatal care for infusions of nutrient lipid emulsions. It offers patient protection against:
Air: preventing air embolism 
Particles: protecting the circulatory system against the undesirable effects of infusing particulate contamination, including flocculates and precipitates. Protecting the vein during peripheral infusion
Enlarged lipid droplets: Significantly reducing the number of droplets (<5 μm) in emulsions
Microbes: reducing the risk of infection due to inadvertantly contaminated infusates, particularly with fungi of clinical importance
Inadvertent Contamination of Parenteral Nutrition Preparations Can Have Serious Consequences
Air can become entrained in infusions due to degassing, disconnection or run-dry. It may not be visible in lipid-containing preparations. It can be particularly problematic on central venous line infusions, leading to air embolism 1.
Particulate contamination arises from infusion systems, components, manipulations 2and as precipitates due to interactions between nutrient components 3. Particles are deposited in the microvasculature of the lungs and other organs and may have serious clinical consequences 4. Gross precipitation in admixtures has proved fatal and may not be visible when lipid is present 3.
Enlarged lipid droplets arise in admixtures due to instability. It has been suggested that the proportion of lipid present as droplets >5 μm should be minimized, since large numbers may lodge in the lung microvasculature and produce an embolic syndrome 5.
Microbial contamination can arise in infusion systems inadvertently due to manipulations. Parenteral nutrition is an acknowledged risk for fungaemia, with Candida species being the most common organisms involved 6. Malassezia furfur is also emerging as an increasingly important pathogen in neonates 7. These fungi are able to survive and grow in lipid-containing preparations 7,8.
References
Coppa. GF et al JPEN 1980;5:166-8.
Foroni LA. et al J Parent Sci Technol 1993;47:311-4
US FDA Safety Alert. Am J Hosp Pharm 1994;51:1427-8.
Walpot H et al. Anaesthetist 1989;38:544-8.
Driscoll DF et al. JPEN 1996;20:296-301
Vazquez J et al. J Infect Dis 1993;168:195-201.
Robinson R and Ball P. NZ Hosp Pharm Assoc. Oct 1996
Scheckelhoff DJ et al. Am J Hosp Pharm 1986;43:73-7