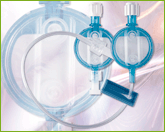 Need Help?

More Information

Description
Features
1.2 μm polyethersulfone membrane
Filtration of nutrient lipid containing solutions
Retention of particles, microorganisms and oversized lipid droplets
Air elimination 
For paediatric and neonatal care
Benefits
The Pall® Lipipor NLF offers patient protection against:
Particles: protecting the circulatory system against the undesirable systemic effects of particulate contamination in intravenous therapy and parenteral nutrition
Air: preventing air embolism
Enlarged lipid droplets: significantly reducing the number of enlarged droplets in emulsions and having at the same time an i mproved tolerance to enlarged droplet challenges
Micro-organisms: reducing the risk of infection due to inadvertently contaminated infusates, particularly with fungi of clinical importance
Filter for Parenteral Nutrition
The use of 1.2 μm filters in nutrient lipid emulsions has been advocated by professional organizations1.
Particulate contamination arises from infusion systems, components, manipulations2 and as precipitates due to interactions between nutrient components3 or drugs. Particles have been shown to cause damage to endothelial cells, trigger inflammation reactions and thrombus formation4. Particulate contamination leads to loss of functional capillary density, especially in tissue with a pre-existing ischemic insult and may lead to loss of organ function and organ failure 5, 6. Gross precipitation in admixtures has proven fatal and may not be visible when lipid is present3.
Air can become entrained in infusions due to degassing, disconnection or run-dry. It may not be visible in lipid-containing preparations. Air bubbles have been shown to cause tissue ischemia and to induce inflammation7.
Enlarged lipid droplets may arise in admixtures due to emulsion instability and due to the use of plastic bag containers8. The U.S. Pharmacopoeia suggests that the proportion of lipid present as droplets > 5 μm should not exceed 0.05% of the total fat present9. The infusion of unstable All-In-One (AIO) admixtures has been shown to cause tissue injury and oxidative stress to reticuloendothelial system organs10.
Microbiological contamination can occur in infusion systems inadvertently due to manipulations. Parenteral nutrition is an acknowledged risk for fungaemia, with Candida species being the most common organisms involved11. Malassezia furfur is emerging as an increasingly important pathogen in neonates. These fungi are able to survive and grow in lipid-containing preparations12.
References
Guidelines on Paediatric Parenteral Nutrition of the European Society of Paediatric Gastroenterology, Hepatology and Nutrition (ESPGHAN) and the European Society for Clinical Nutrition and Metabolism (ESPEN), Supported by the European Society of Paediatric Research (ESPR). Journal of Pediatric Gastroenterology and Nutrition (2005) 41:S1–S85
Foroni LA. et al. J Parent Sci Technol (1993) 47: 311 - 4
U.S. FDA Safety Alert. Am J Hosp Pharm (1994) 51:1427-8
Oberdörster, G. et al. Particle and Fibre Toxicology (2005) 2: 8 - 43
Lehr H.-A. et al. Am J Respir Crit Care Med (2002) 165: 514–520
Walpot H et al. Anaesthetist (1989) 38:544-8.
Muth CM, Shank ES New England Journal of Medicine (2000) 342: 476 - 482
Driscoll DF and Bistrian BR Clinical Nutrition (2005) 24: 699-700
USP, Chapter 729 Pharm Forum (2005) 31: 1448 –53
Driscoll DF et al. Clinical Nutrition (2006) 25(5): 842-50
Vazquez J et al. J Infect Dis (1993)168:195-201
Robinson R and Ball P. NZ Hosp Pharm Assoc Oct 1996