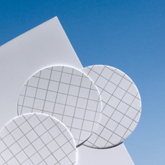 Need Help?

More Information

Description
For Microbial Analysis and Air Monitoring Applications



Pall's mixed cellulose esters filter material is the most accepted filter material for microbiological analysis. It meets or surpasses U.S. EPA and ASTM specifications. The membrane provides maximum recovery of organisms and is available with a grid pattern that provides guidance for the quantification of microbial colonies without growth inhibition or enhancement. With less than 2% extractables, you can be assured that the mixed cellulose esters will not inhibit growth of the desired organisms. This material is available in both sterile and non-sterile packaging options to meet your manufacturing requirements.
For air monitoring applications, the membrane can be dissolved using standard digestion procedures. The membrane clears completely and possesses low artifacts resulting in minimal interference in fiber counting. The 0.8 µm mixed cellulose ester membrane meets the NIOSH requirements for airborne metals and asbestos monitoring.
"Pall Laboratory products are designed for laboratory applications only. This product is not approved for use in medical, clinical, surgical or other patient applications. If you require further assistance in product selection for your chosen application, please email us a question or call 1-800-521-1520."