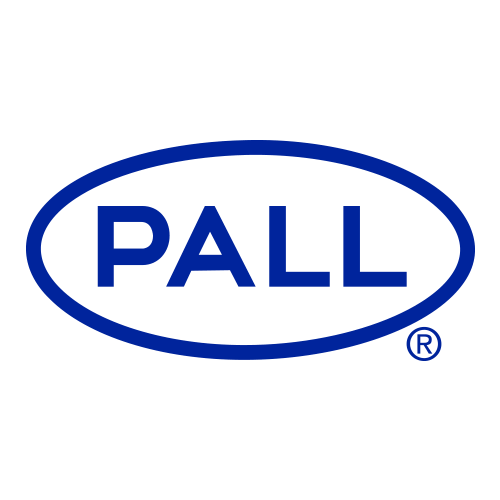 Unit of Measure
2000/EA
Min Order Qty
2,000
This product is currently not available. Please contact us for more information.
Specially Engineered Device
For High Flow Rate Applications
Optimized 0.2 µm Supor® membrane achieves 23% higher flow rates for shorter infusion times.
100% bacterial retention* provides added safety and patient protection.
High capacity dual vents for faster repriming times and orientation-independent venting.
Same materials of construction as IV-3 filter simplify validation requirements.
Maximizes delivery of critical drugs with proven low drug binding Supor membrane to increase dosing accuracy.
* 0.2 µm Supor membrane is retentive of B. diminuta and meets USP 25/NF20 requirements for a sterilizing grade filter per ASTM F838-83 test methods.
Materials of Construction
Media: Supor (polyethersulfone) membrane
Housing: Modified acrylic
Vent: 0.02 µm supported PTFE
Bubble Point
46 psi
Minimum Water Flow Rate
> 40 mL/min @ 91 cm (36 in.) head pressure
Maximum Operating Pressure
45 psi
Pyrogenicity
< 0.25 EU/mL using the LAL test method
Sterilization Compatibility
EtO, Gamma irradiation (tested to 50 kGy)
Biological Safety
Materials of contruction pass USP Biological Reactivity Tests, In Vivo <88>
Results of internal evaluations show that the IV-3 High Flow filter delivers flow rate performance that is 23% better than the traditional IV-3 filter design.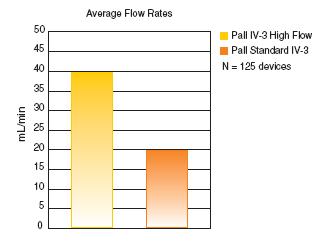 In high flow delivery applications, pumps are used to generate the flow rates required. The IV-3 High Flow filter was tested against Pall's traditional IV-3 filter design by comparing pump pressure required to maintain various flow rates using water and a cremophor solution. The results are shown below.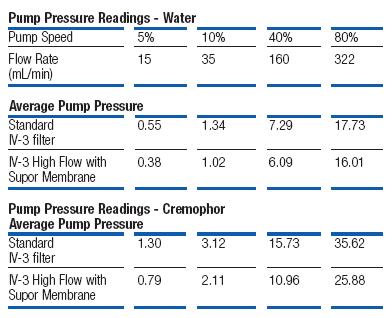 Part Number
Description
Packaging
6494521
IV-3 High Flow with Supor membrane, clear/green housing
2000/pkg