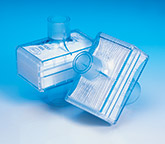 Need Help?

More Information

Description
Breathing System Filter for use in
anesthesia and intensive care
Features
High efficiency pleated hydrophobic membrane
≥ 99.999% retention of airborne bacteria and viruses
100% retention of liquidborne microorganisms
Retains natural rubber latex allergens
100% individually integrity and efficiency tested
Smooth, transparent housing
Compatible with drug nebulization administered between the filter and the patient
Maximum use life of 48 hours
Patient side of filter clearly indicated
Benefits
Provides a barrier for patients and staff against airborne and liquidborne microbial pathogens
Can be used during patient anesthesia and then carried over to post-operative ventilation and respiratory therapy
48-hour maximum use reduces the need for circuit manipulation
Superior patient comfort
Provides optimal humidification
Specifications
Filter Medium
Pleated hydrophobic membrane
Airborne Bacterial/Viral Removal Efficiency
≥ 99.999%
Liquidborne Bacterial/Viral Removal Efficiency
100%
Humidification
Water loss: 8 mg/L up to 800 mL tidal volume
Resistance to Air Flow
Approximately 2 cm H
2
O at 60 L/min
Construction
Transparent, non-conductive housing
Connections
Tapered connectors (ISO 5356-1: 2004)
Patient side: 15 mm ID + 22 mm OD
Breathing system side: 22 mm ID
Filter Volume
Approximately 85 mL
Weight
Approximately 47 g
Recommended Use
Change filter after 24 hours. Use life may be extended to 48 hours if wet nebulization is not performed. Single use (change for each new patient). Use only at the patient end of the circuit
Type
Respiratory and Anesthesia Products
Additional Information
High Efficiency Hydrophobic Membrane Establishes a Barrier Against Microbial Pathogens:
The Pall Ultipor 100 provides a barrier against cross contamination between patients in anesthesia.1,2,3 The Ultipor 100 has been validated to remove Mycobacterium tuberculosis,4,5 Staphylococcus aureus,6 Hepatitis C virus,2 HIV7, and Influenza A virus8. When evaluated among a group of 104 breathing filters using the particle retention test specified in ISO 23328- 1:2003,9 it demonstrated outstanding filtration efficiency. All Pall Breathing System Filters contain a proprietary fine hydrophobic filter medium that is tested during manufacturing to demonstrate a water intrusion pressure (hydrophobicity) in excess of 50 cm water column.
Optimal Humidification
The Pall Ultipor 100 efficiently heats and humidifies ventilation gases for respiratory therapy patients.10,11 It preserves the rheological and physical properties of patient airway mucus, and contributes to the maintenance of physiological mucus clearance.12
Latex
The Pall Ultipor 100 is free of natural rubber latex. Pall Breathing System Filters have been tested to verify the retention of natural latex rubber allergens in liquids and airborne particles.13,14
Product Life with Drug Nebulization
The Ultipor 100 may be left in place during nebulization of drug solutions administered between the filter and the patient. If nebulization is performed with the filter in place, the filter has a maximum use life of 24 hours. When a metered dose inhaler is used, or when no drugs are nebulized with the filter in place, the maximum use life of the Ultipor 100 is 48 hours.

References

1 HIV and other blood borne viruses-guidance for anesthetists. Association of Anesthetists of Great Britain and Ireland. January 1996 update.
2 Lloyd, G. et al. 1997. Anesthesia and Intensive Care, 6, 235-238.
3 Purday, J. 1997. Technic 63:9-11.
4 Speight, S. et al. 1995. Centre for Applied Microbiology and Research.
5 Aranha, H. et al. 1995. Infec. Control and Hosp. Epidemiol, 16(4): Part 2, Supplement.
6 Rosales, M. & Dominguez, V. 1992. 2nd International Conference on Prevention of Infection, Nice, France, 4-5th May.
7 Lloyd, G. et al. 1997. Centre for Applied Microbiology and Research.
8 Heuer J et al. GMS Hyg Infect Control 8(1): Doc09 (2013).
9 Wilkes, A.R. 2004. MHRA evaluation report no 04005.
10 Nakagawa, N.K. et al. 1995. Clinical Intensive Care, 6:2 supplement.
11 Martin, C. et al. 1995. Presented at the ATS/ALA meeting, Seattle, WA, USA, May.
12 Nakagawa, N.K. et al. 2000. Crit Care Med 28(2):312 - 317.
13 Chen, Z. & Capewell, A. 2000. Scientific and Laboratory Services Report, Pall Europe.
14 Barbara, J. et al. 2005. Br J Anaesth. Sept. 95(3):349-54.
Ordering Information
Ultipor 100 Breathing System Filter
 
Part Number
Description
Pkg
BB100A
Ultipor 100 Breathing System Filter
50/case
BB100AF
Ultipor 100 with 15 mm flex tube
50/case