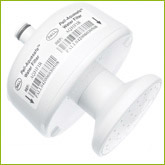 Need Help?

More Information

Description
Disposable Water Filters – Tap (Reorder Codes: AQ31F1S, AQ31F1S2, AQ31F1R, AQ31F1R2) – 31 Day Use
The Pall-Aquasafe Disposable Water Filters (Reorder Codes: AQ31F1S, AQ31F1S2, AQ31F1R, AQ31F1R2) provide filtered water for topical use, personal hygiene, wound care*, consumption and the preparation of cold drinks and food*, and for rinsing of medical instruments for up to 31 day use. The double layer sterilising grade Supor® membrane is rated and validated at 0.2 μm1,2, and provides protection to patients and vulnerable users by acting as a barrier to waterborne particulates and pathogens such as Legionella spp. and Pseudomonas spp.
To minimise the risk of inadvertent cross-contamination and retrograde contamination, the filter housing material utilizes silver technology as an enhanced, non-leaching bacteriostatic additive.
A single use Detachable Shower Rose (AQFROSE) is also available for use in combination with the Pall-Aquasafe Disposable Water Filter (AQ31F1S, AQ31F1S2) to provide water for direct wound care*.
* Where local practices and regulations allow.

Easy to use, convenient and cost effective




 
Features
Benefits
Protective barrier against waterborne contaminants including Legionella spp. and Pseudomonas spp.
Reduces the risk of water associated nosocomial infection
Validated double layer sterilizing grade filtration with integral pre-filter
Documented performance, validated according to international requirements
Enhanced bacteriostatic efficiency of 99.99 % for Pseudomonas aeruginosa
Bacteriostatic additive throughout housing materials, minimises risk of inadvertent cross-contamination and retrograde contamination
Detachable shower rose accessory for applications such as wound care also available
Added protection from cross-contamination
Increased media area for longer life
Cost effective, easier logistics, reduced waste
Fully recyclable materials
Environmentally friendly
Compatible with common systemic heat and chemical disinfection
Complementary to sanitisation programs