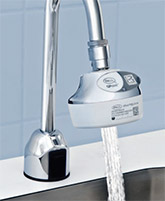 Need Help?

More Information

Description
Combining fixed Docking Station and exchangeable Filter Capsule for up to 2 months use
The QPoint Tap Water Filter Assembly with exchangeable Filter Capsule for up to 62 day (2 months) use provides 0.2 μm sterilizing-grade
filtered water at the Point-of-Use
. 
The high technology integrated prefiltration layer delivers exceptional particulate trapping capacity with good flow rates, and protects the proven double layer sterilizing grade membranes enabling long performance life. The Filter Capsule retains fungi, protozoa and bacteria such as
Legionella
spp.,
Pseudomonas
spp., non-tuberculous Mycobacteria and
Escherichia coli
without volume restriction. A combination of the non-leaching bacteriostatic additive with >99% effectiveness and inner shield protection within the Filter Capsule minimizes the risk of retrograde contamination over the life of the product.
The smooth, chrome finish Docking Station is hygienically designed, and will fit to all standard tap water outlets. The combination of this fixed Docking Station with the disposable Filter Capsule is compact, reduces waste, reduces costs and improves logistics for the user.
 
Features
Benefits
Secure double layer 0.2 μm sterilizing grade filter membranes
Retains microorganisms without volume restriction
Fixed docking station and exchangeable filter capsule
Waste reduction, cost reduction and improved logistics
Improved pre-filtration
Higher dirt capacity for better flow rates
Intelligent protection from back splash
Minimizes retrograde contamination
Reuseable and recyclable materials
Environmentally friendly