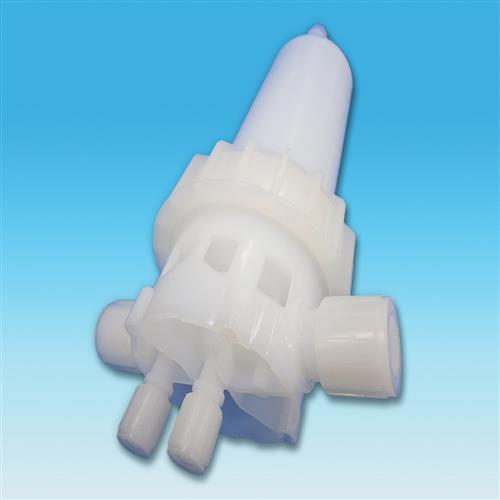 Megaplast™ G2 CD Filter Housing
Description
The centrally located Drain/Vent port on the Megaplast™ CD housing head provides for efficient and rapid drainage when mounted with the bowl up, and efficient venting when mounted in the bowl down position.
The Megaplast CD has the same head mounting position design and dimensions as the Pall FlexBowl™ Housing. The comparable flat head design allows for more equipment design installation options.
The housings are designed to meet the stringent cleanliness requirements of ultrapure applications by using high purity PFA for all wetted components.
The Megaplast G2 CD housings are available in 102 mm, (4 in), 254 mm, (10 in), and 508 mm, (20 in) sizes. The 254 mm, (10 in) housing is designed to fit standard filter cartridges with a diameter of up to 82.5 mm, (3.25 in).
A selection of standard semiconductor industry inlet and outlet connection fittings are offered in different sizes and styles.
Features
Optimized drainage and venting designs
High-purity design
Metal-free construction
High temperature capability
Closure nut is free floating
Specifications

Materials of Construction

 
Components
Materials
Bowl
High-purity PFA
Head
High-purity PFA
Closure nut
PVDF
O-ring1, 2
PFA encapsulated fluorocarbon elastomer
 

1 All fluoropolymer materials made without PFOA.
2 Other O-ring options available.

 
Configuration
T-flow
Maximum Operating Temperature
95 ̊C / 203 ̊F
Maximum Operating Pressure of Housing
0.56 MPaG < 30 ̊C / 80 psig @ 86 ̊F
0.38 MPaG < 60 ̊C / 55 psig @ 140 ̊F
0.28 MPaG < 95 ̊C / 40 psig @ 200 ̊F
 

Additional Information

Dimensions

 
Part number
L1
L2
W
PFCD1F128SPH1B
64.5 mm
(2.54 in)
388 mm
(15.3 in)
218.9 mm
(8.62 in)
PFCD1F168SPH1B
64.5 mm
(2.54 in)
388 mm
(15.3 in)
223.8 mm
(8.81 in)
PFCD1F128FLH1B
66 mm
(2.60 in)
366.3 mm
(14.42 in)
191.3 mm
(7.53 in)
PFCD1F168FLH1B
67.3 mm
(2.65 in)
366.3 mm
(14.42 in)
214.6 mm
(8.45 in)
PFCD1F128BWH1B
59.7 mm
(2.35 in)
357.3 mm
(14.07 in)
198.4 mm
(7.81 in)
PFCD1F168BWH1B
59.7 mm
(2.35 in)
357.3 mm
(14.07 in)
198.4 mm
(7.81 in)
 

Pressure Drop vs. Liquid Flow Rate (Water, 20°C)5

5 For liquids with viscosity differing from water, multiply the pressure drop by the viscosity in centipoise.

Ordering Information

PFCD [1] [2] [3] [4] [5]

Table 1

 
Code
Filter length
04
4 in
1
10 in
2
20 in
 

Table 2

 
Code
Closure nut materials
F
PVDF
P
PTFE
 

Table 3

 
Code
In / Out
Vent / Drain
128
3/4 in
1/2 in
168
1 in
1/2 in
 

Table 4

 
Code
Connections
BW
Butt Weld
FL
Flare style
SP
Pillar Super 300 P series
 

Table 5

 
Code
O-ring
H1B
PFA encapsulated fluorocarbon elastomer
H11F
Kalrez6 7075
 

6 Kalrez is a trademark of Dupont

* Part numbers are not available with every option. (Refer to codes for options.)

  Contact your local Pall representative for option availability.

* SPANNER WRENCH PART NUMBER : ACS0655AAHD