Show only products available to purchase online
Unit of Measure
PAC
Min Order Qty
1
Diameter
13 mm
Membrane
Supor (Hydrophilic polyethersulfone)
Minimum Bubble Point
2.5 bar
Pore Size
0.45 µm
Quantity
100 pkg
Sterile
Non-sterile
Typical Thickness
140 μm
Unit of Measure
EA
Min Order Qty
1
Diameter
13 mm
Membrane
Supor (Hydrophilic polyethersulfone)
Minimum Bubble Point
3.5 bar
Pore Size
0.2 µm
Quantity
100 pkg
Sterile
Non-sterile
Typical Thickness
145 μm
Unit of Measure
PAC
Min Order Qty
1
Connections
Female threaded luer inlet, male slip luer outlet
EFA
0.8 cm²
Material
Plastic
Size
13 mm
Sterile
Non-Sterile
Quantity
5 pkg
Unit of Measure
PAC
Min Order Qty
1
Diameter
13 mm
Max. Operating Temperature
100 °C
Minimum Bubble Point
2.6 bar
Pore Size
0.45 µm
Typical Thickness
127 µm
13MM ACRODISC 0.2UM wwPTFE MINI 300/PK
Unit of Measure
PAC
Min Order Qty
1
Alternate for
4554
Diameter
13 mm
Effective Filtration Area
1.0 cm²
Hold Up Volume
<14 µL
Housing
Polypropylene
Max Operating Pressure
6.2 bar
Max. Operating Temperature
55 C°
Media
wwPTFE
13MM ACRODISC 0.45UM NYLON SPIKE 300/CS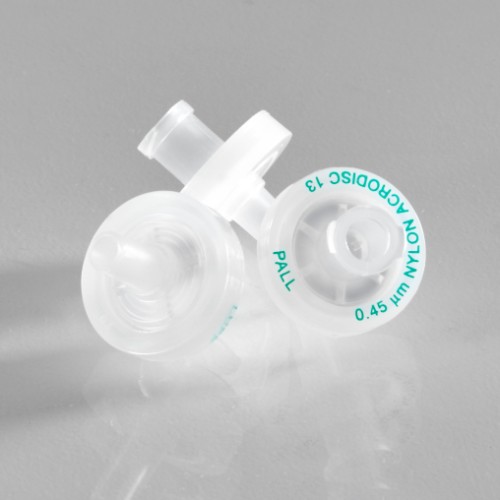 Unit of Measure
CV
Min Order Qty
1
Diameter
13 mm
Filtration Area
1 cm²
Filter Media
Nylon
Flow Rate
15 mL/min at 2.1 bar (210 kPa, 30 psi)
Hold-Up Volume
<14 µL
Housings
Polypropylene
Maximum Operating Pressure
6.9 bar
Max. Operating Temperature
55 °C
13MM ACRODSC 0.45UM PTFE 300/CS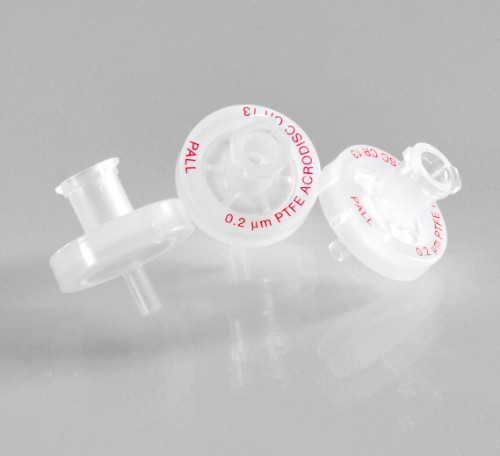 Unit of Measure
CV
Min Order Qty
1
Diameter
13 mm
Filtration Area
1 cm²
Filter Media
Hydrophobic PTFE membrane on a polypropylene support
Flow Rate
510 mL/min at 1.0 bar (100 kPa, 15 psi)
Hold-Up Volume
<30 µL
Housings
Polypropylene
Maximum Operating Pressure
6.9 bar
Max. Operating Temperature
100 °C
Unit of Measure
EA
Min Order Qty
1
Connections
Female threaded luer inlet, male slip luer outlet
EFA
0.8 cm²
Material
304 Stainless Steel
Size
13 mm
Sterile
Non-Sterile
Quantity
1 pkg
Available in plastic and stainless steel. Economical for small-volume (1 to 10 mL) filtration. Accepts 13 mm filter discs. Luer inlet and outlet fittings provide easy connections.
Product Type
Filter Holder

3 Products In Family
$ 5.62 - $ 179.35

Convenient sizes and durable materials for filtration of all your laboratory samples. Design optimizes use of filter area with 15% more EFA than most competitive units, giving higher flow rates and extending the filter's service life.
Product Type
Filter Holder

17 Products In Family
$ 12.97 - $ 6,910.32

Unit of Measure
PAC
Min Order Qty
1
Diameter
142 mm
Membrane
Supor (Hydrophilic polyethersulfone)
Minimum Bubble Point
2.4 bar
Pore Size
0.1 µm
Quantity
25 pkg
Sterile
Non-sterile
Typical Thickness
132 μm