Show only products available to purchase online
25MM ACRODISC HT-450 0.45UM 300/CS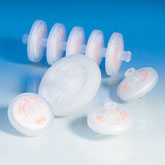 Unit of Measure
CV
Min Order Qty
1
25MM ACRODISC IC 0.45UM SUP0R 200/CS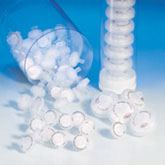 Unit of Measure
CV
Min Order Qty
1
Diameter
25 mm
Filtration Area
3.9 cm²
Filter Media
Supor [hydrophilic polyethersulfone (PES)] membrane
Flow Rate
420 mL/min at 2.1 bar (210 kPa, 30 psi)
Hold-Up Volume
<125 µL
Housings
Polypropylene
Maximum Operating Pressure
2.1 bar
Max. Operating Temperature
100 °C
25MM ACRODISC V-1200 1.2UM 300/CS
Unit of Measure
EA
Min Order Qty
1
Diameter
25 mm
Filtration Area
2.8 cm²
Filter Media
Versapor® (hydrophilic acrylic copolymer on a nonwoven support)
Hold-Up Volume
< 70 µL
Housings
Modified acrylic
Maximum Operating Pressure
5.2 bar
Max. Operating Temperature
55 °C
Pore size
1.2 µm
25MM ACRODISC V-5000 5UM 300/CS
Unit of Measure
EA
Min Order Qty
1
Diameter
25 mm
Filtration Area
2.8 cm²
Filter Media
Versapor® (hydrophilic acrylic copolymer on a nonwoven support)
Hold-Up Volume
< 70 µL
Housings
Modified acrylic
Maximum Operating Pressure
5.2 bar
Max. Operating Temperature
55 °C
Pore size
5 µm
3 Products In Family
$ 45.83 - $ 209.68

Large filtration area for easy operation and fast liquid flow. Economical for small-volume (10 to 100 mL) filtration. Accepts 25 mm filter discs.Luer inlet and outlet fittings provide easy connections.
Product Type
Filter Holder

2 Products In Family
$ 4.49 - $ 119.67

High quality, corrosion-resistant funnel for vacuum filtration. Stainless steel construction offers excellent chemical resistance. Threaded collar seals to base.
Product Type
Filter Funnel

3 Products In Family
$ 46.17 - $ 707.77

Economical, autoclavable funnels for vacuum filtration. Transparent funnels with graduations permit easy visual measurement. Tapered stem fits standard size #2 stoppers.
Product Type
Filter Funnel

4 Products In Family
$ 9.20 - $ 180.88

Lightweight filter holder for particulate sampling. Domed inlet provides uniform sample distribution on the filter. Lightweight for venting and air monitoring applications.
Product Type
Filter Holder

3 Products In Family
$ 4.49 - $ 190.08

Unit of Measure
EA
Min Order Qty
1
Connections
1⁄8 in. FNPT in
EFA
3.7 cm²
Material
316 stainless steel
Size
25 mm
Sterile
Non-sterile
Quantity
1 pkg
Unit of Measure
PAC
Min Order Qty
1
Unit of Measure
PAC
Min Order Qty
1
Diameter
293 mm
Membrane
Supor (Hydrophilic polyethersulfone)
Minimum Bubble Point
2.4 bar
Pore Size
0.1 µm
Quantity
25 pkg
Sterile
Non-sterile
Typical Thickness
132 μm