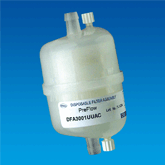 Unit of Measure
1/EA
Min Order Qty
1
PreFlow resin-bonded glass fiber filter capsules have been designed for small volume production and scale-up evaluation.
Pall PreFlow media provide bioburden reduction, clarification, and prefiltration for sterilizing-grade filters when processing biological fluids. The fixed pore structure and proprietary resin-bonded glass fiber composite media provide exceptional capacity for fine contaminants and long service life.  
PreFlow filters have the following properties:
Fixed pore construction 
Resistant to contaminant unloading 
Meets USP Biological Reactivity Test, in vivo, for Class VI – 121 °C Plastics
Features and Benefits
The key benefits of DFA PreFlow capsules for prefiltration applications include: 
Scalablity to production filters 
Capsule format for ease of use 
Effective and reliable protection of final filters, including 0.2 µm and 0.1 µm sterilizing-grade — providing higher throughputs and longer filter life 
Low hold-up volumes 
High-strength design allows for multiple autoclave cycles 
Supplied with Certificate of Test giving batch traceability
Pall's UpScale

SM

Program
From drug discovery and basic research, through process development and production, Pall Corporation is the single source for all of your filtration and separation needs. Our UpScale program provides you with the scalable filtration products and support you need to bring new products to market faster.
Materials of Construction
 
Filter Medium    
 Resin-bonded glass fiber
Core and End Caps
 Polypropylene
Support and Drainage
 Polypropylene
 Shell
 Polypropylene
 
Operating Conditions1
 
Maximum Operating Temperature
 40 °C
 Maximum Operating Pressure
 3.5 barg (50 psig)
 
1 In compatible fluids which do not soften, swell or adversely affect the filter or its materials of construction.
Typical Extractables in Water at 20 °C after 4 hours Extraction
 
DFA3001UUAC
 < 10 mg
DFA3001UBC
 < 30 mg
 
Autoclave Sterilization2
 3 x 1-hour cycles at 125 °C
2 Warning: This product must not be sterilized in situ by passing steam through under pressure.
Nominal Filtration Area
Typical Flow Rates

Nominal Dimensions
 
 Length
 124 mm (4.9 in.)
 Maximum Diameter
 72 mm (2.8 in.)
 Connections
 10 mm (3⁄8 in.) hose barb
 
Applications
The PreFlow range of filters has been specifically designed for the filtration of biological fluids including:
Serum
Vaccines
Cell Culture Media
Protein Solutions
Regulatory/Quality Documentation
 
Part Number
Absolute Removal Rating
DFA3001UUAC
 0.2 µm
 DFA3001UBC
 0.45 µm
 
PreFlow™ Filter Capsules maintain Pall's top performance with low hold up volumes, high strength and autoclavable design. Capsules are compact and can be scalable to production filters. It has a fixed pore construction and a contaminant unloading resistance. PreFlow capsules are applicable to biotechnological processing like vaccines and serums.