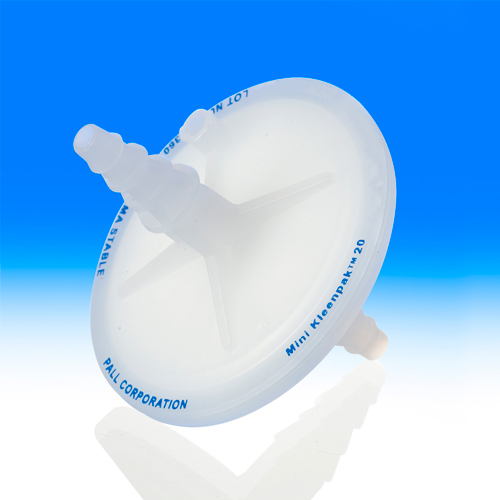 Unit of Measure
1/EA
Min Order Qty
1
Membrane Material
Polyvinylidene fluoride (PVDF)

Effective Filtration Area (Metric)
20 cm²

See All Attributes
These 0.1 micron-rated filters with serial layer (0.2/0.1 micron) membrane construction assure high flow rates compared with other 0.1 micron (and even some 0.2 micron)-rated filters. Fluorodyne II grade DJL filters are validated for removal of
Acholeplasma laidlawii
mycoplasma (ATCC 28206) with a typical T
R
>10
11
and retention of
Brevundimonas diminuta
(ATCC 19146) at 10
7
CFU/cm² effective filter area (EFA). This allows for enhanced sterilization assurance as well as efficient mycoplasma control.
Mini Kleenpak 20 capsules are suited to both the filtration of low volumes of fluids (50 mL to 2 L) in the laboratory for filterability purposes, or in a GMP production environment where a certified filter product is essential and a single-use alternative to the cleaning of 47 mm disc holders is desired.
Key Features and Benefits
Highest flow of PVDF compared to other 0.1 µm filters
Built in prefiltration layer 
High safety for A. laidlawii 
Sterilizing grade claim
Low extractables  
High protein transmission
Rapid preservative recoveries 
Easy integrity testing 
Compatible with organic solvents, acids and chemicals¹
Resin and surfactant-free 
Melt-sealed, non shedding
¹ Except ketones and amides

Quality Standards
Manufactured for use in conformance with cGMP 
Integrity tested at manufacture
ISO 9000 Certified Quality System
Meets USP Biological Reactivity Test in vivo for Class VI-121 °C plastics
Test correlated to microbial retention
Certificate of Test provided includes


Fabrication Integrity 
Bacterial Retention 
Material of Construction
Effluent quality for cleanliness and endotoxins
Materials Of Construction
 
Filter Membrane
Hydrophilic modified PVDF
Housing, Vent Plug and Support Material
Polypropylene (Filling Bell is polycarbonate)
Sealing Technology
Thermal bonding without adhesives
 
Operating Parameters¹
 
Maximum Operating Temperature and Pressure
1.4 bar (20 psi) at 20 °C
 
¹ In compatible fluids which do not soften, swell or adversely affect the filter or its materials of construction

Sterilization²
Pre-sterilized, subject to a minimum of 25 kGy of gamma irradiation
² Pre-sterilized Mini Kleenpak 20 capsules must not be re-sterilized. Mini Kleenpak 20 capsules must not be sterilized in-situ by passing steam under pressure


Typical Hold up Volume

Nominal Dimensions
 
Capsule Length
83 mm (3.3 in.)
Capsule Diameter
67 mm (2.7 in.)
 
Nominal Effective Filter Area (EFA)

Connection
¼ – ½ in. (6 – 13 mm) stepped hose barb. Inner bore to accept female slip luer interior and outer diameter to accept filling bell outlet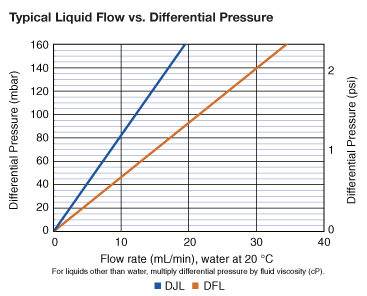 Item
Part Number*
Mini Kleenpak™ 20 Capsules with Fluorodyne® II DJL Membrane
KM5DJLP2S
 
* supplied as 1 box of 3 filters
Fluorodyne® II DJL Membrane in Mini Kleenpak™ 20 Capsules are compatible with organic solvents, acids and chemicals. They are integrity tested and manufactured to USP Biological Reactivity Test standards. DJL produces high rates of microbial retention and protein transmission. Efficient for A. laidlawii and other organism filtration. DJL has the highest flow of PVDF for compatible filters of its size.