Emflon® PFR Membrane
High-strength, long-life, sterilizing-grade filter membrane ideal for air, gas, and vent filtration in biotech applications
Emflon® PFR sterilizing-grade membrane filters are ideal for a wide range of air, gas, and vent sterilizing filtration applications within the pharmaceutical and biotechnology industries, including:

Product-contact gases, such as nitrogen blanketing
Inlet gas and vents on bioreactors and fermenters
Venting of hold tanks and mixers
Compressed gas for instrumentation and lyophilization
Gas used for drying and transfer fill lines
Blow-fill-seal equipment
Environmental air in isolators
The double-layer polytetrafluoroethylene (PTFE) membrane is inherently hydrophobic, chemically inert and designed for the complete removal of contaminating bacteria and a high-titer-reduction of some viruses.
Order Products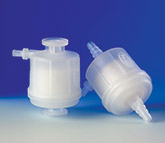 Unit of Measure
1/EA
Min Order Qty
1
Description
Superior Performance
Emflon PFR membrane filters meet the ever-increasing demand for air filters and offer great strength and long life, even during continuous use in hot air up to 60 °C, in vent applications up to 80 °C, and during repeated steaming in either the forward or reverse direction.
Combined with high flow rates and excellent de-wetting characteristics, Emflon PFR membrane delivers very economical filtration through smaller installations and reduced energy costs. In addition, the filters can be tested in-situ by the Forward Flow integrity test or a Water Intrusion test. Both tests are correlated to the liquid bacterial challenge test.
Benefits
Rapid qualification and regulatory filing (comprehensive validation guide available)
Reduced installation and running costs, as high flow rates and low pressure-drops allow more compact systems to be utilized
Assurance of integrity and reliability due to robust design and proven performance over many years
Minimized changeout frequency as long steam life and long service combine to offer low-cost filtration
Consistency and Reliability of Performance
Pall manufactures the PTFE membrane used in its Emflon PFR air and vent filter capsules and cartridges, ensuring security of supply and assuring full control of membrane manufacture.
Scientifically Validated
Emflon PFR filters have been extensively scientifically validated using the most advanced methods and most sensitive equipment available. With an absolute removal rating of 0.2 µm in liquids and 0.003 µm in gases, they are validated by:
Brevundimonas (Pseudomonas) diminuta (ATCC 19146) liquid challenge at 107/cm2
Brevundimonas (Pseudomonas) diminuta (ATCC 19146) aerosol challenge
Bacteriophage retention (PP7/ATCC 15692-B4) aerosol challenge
Bacteriophage retention (MS-2/ATCC 15597-B1) aerosol challenge
Spore retention Bacillus atropeaus NCTC 10073, ATCC 10073, aerosol challenge
Airborne sodium chloride aerosol challenge
Available Formats
Cartridges

1 Based on the use of a standard Pall Advanta™ housing
Capsules
Format

Typical Air Flow Range

(Nm3/h)

Maximum Operating
System Pressure
(Typical) (barg)
Sterilization Conditions
0 – 1
2.1
Autoclavable
0 – 5
4.1
Autoclavable
0 – 50
3.5
Autoclavable

Kleenpak Nova

Filter Capsules

(10-inch, 20-inch, 30-inch)

0 – 300
10
Autoclavable
2 0.5 barg (7 psig) up to 40 °C (104 °F). If it is possible that the pressure may exceed 0.5 barg (7 psig) during operation, then a safety shield is required. The maximum pressure of 3 barg (44 psig) must not be exceeded at any time.
Format

Typical Air Flow Range

(Nm3/h)

Maximum Operating
System Pressure
(Typical) (barg)
Sterilization Conditions
Novasip™ Filter Capsules
0 – 100
6.5
Autoclavable, Steam-In-Place
Quality
Designed, developed, and manufactured in accordance with an ISO 9001 certified Quality Management System
Manufactured in a controlled environment that meets the air quality standards of an ISO Class 8 room
Emflon PFR membrane filter cartridges may be used in conformance with current Good Manufacturing Practices (cGMP) in Manufacturing, Processing, Packing or Holding of Drugs per Title 21 of the U.S. Code of Federal Regulations (21 CFR Part 210) and cGMP for Finished Pharmaceuticals (21 CFR Part 211)
Does not contain materials of construction that are considered specified TSE or BSE risk materials according to current legislation and guidelines (reference European CPMP EMA/410/01 and per Title 21 of the U.S. Code of Federal Regulations (CFR), part 189.5)
Provided with a Pharmaceutical Certificate of Test
Certification
| Certification Type | Description |
| --- | --- |
| Integrity Test | Each filter element is 100% Forward Flow tested at manufacture prior to release |
| Autoclave Test | Lot Samples Pass Forward Flow integrity test after being subjected to six (6) one-hour autoclave cycles at 121 °C as part of our manufacturing release criteria |
| Bacterial Challenge | Lot Samples are tested for retention of Brevundimonas diminuta, using procedures correlated to ASTM Standard Test Method F838-05, in conformance with the applicable requirements of the FDA Guideline Sterile Drug Products Produced by Aseptic Processing - Current Good Manufacturing Practice (September 2004) |
| Materials of Construction | The filter components have met the requirements for biological reactivity, in vivo, under USP <88> (for Class VI - 121°C plastics) and in vitro, under USP <87> (Elution Test). Although not intended for food contact use, the materials of construction of this product are made in line with the listings given in U.S. FDA 21 CFR Parts 170-199 |
| Cleanliness | Meets with adequate safety margin, after flushing, current limits under USP <788> Particulate Matter in Injections, with effluent counts determined microscopically. Counts serve to document conformance with the requirements for a non-fiber-releasing filter per Title 21 of the U.S. Code of Federal Regulations (CFR) parts 211.72 and 210.3 (b) (6) |
| Oxidizable Substances | Meets the current USP limits under Sterile Water for Injection after flushing, when tested in accordance with USP <791> |
| pH | Meets the current USP limits under Sterile Water for Injection after flushing, when tested in accordance with USP <791> |
| Endotoxins | Meets with adequate safety margin the current USP requirements under Bacterial Endotoxins Test as determined using the Limulus Amoebocyte Lysate (LAL) reagent with an aliquot from a soak solution in accordance with USP <85> Bacterial Endotoxins Test |