The issues of effective cleaning and cleaning validation result in disposable equipment being the preferred option for many processes.
Disposable filters
can help eliminate cleaning problems, especially where biological products are to be filtered. In applications where hazardous materials are being filtered, such as cytotoxic drugs, capsule filters can play an important role in helping protect operators.
Kleenpak Nova capsule filters are designed to provide choice, cost effectiveness and flexibility, while ensuring ease of use for the operator.
Designed to Provide Choice and Flexibility
Kleenpak Nova capsule filters are available with either in-line or T-style configurations. The T-style configuration is ideal for manipulating multiple filters in series or in parallel configuration.   Kleenpak Nova Capsule filters incorporate either a 10 in. (254 mm), 20 in. (508 mm) or 30 in.
(762 mm) length standard Pall cartridge filter which have traditionally been installed in stainless steel housings. In applications where a particular filter is already specified, the user can switch from a stainless steel housing to a fully disposable assembly with minimal requalification. This means the extensive range of sterilizing-grade and
virus filters
currently available from Pall can easily be provided as a capsule filter, including:  
Low binding, high-flow Fluorodyne® II PVDF filters
Ultipor® N66 and positively-charged Posidyne® nylon 66 filters
Supor® polyethersulfone filters
Ultipor VF DV20 and DV50 virus removal filters
Kleenpak Nova capsules are especially suited to pilot- and process-scale applications. They can be autoclaved or sterilized by Gamma-irradiation and can be supplied as part of pre-sterilized processing systems such as a filter/tubing/bag set. Kleenpak Nova capsules are used in a wide range of critical applications including the sterilization of biopharmaceuticals, biologicals, diagnostic reagents, serum, tissue culture media, and culture-media components.
Kleenpak Nova Filters Reduce Operating Costs
Kleenpak Nova filters have a typical installation cost that is 80 % lower than a similar sized stainless steel housing system. Therefore, they offer an extremely cost-effective alternative to housing and cartridge systems. Kleenpak Nova filters can also provide additional cost savings:
No housing maintenance — Lower maintenance costs
No housing cleaning or cleaning validation — Lower labor costs
Filter is pre-assembled — Lower labor costs
Filter can be provided pre-sterilized — Lower energy costs
Products in this datasheet may be covered by one or more patents including :
EP 0 667 800
EP 0 982 061
EP 1 380 331
US 5,543,047
US 5,690,765
US 5,725,784
US 6,113,784
US 7,083,564
US 7,318,800
US 5,736,051
US 7,273,550
EP 0 998 343



Operating Conditions1
Maximum Operating Temperature

 40 °C

Maximum Operating Pressure

 3 barg (43.5 psig) at 40 °C
(6.2 barg (90 psig) at 40 °C for up to a maximum of 10 hours)2
1 With compatible fluids which do not soften, swell or adversely affect the product or its materials of construction
2 Integrity test purposes only
Capsule Materials of Construction
Housing Bowl and Head2

 Polypropylene

 O-rings

 Silicone elastomer
2 Formulated with TiO2 whitener which does not contribute to organic extractables
Sterilization
 Autoclave (Maximum)
 1 x 60 minutes at 135 °C
 Gamma irradiation
 Maximum dosage 50 kGy
Consult Pall for procedures
Nominal Dimensions
In Line
NP6
NP7
NP8
Maximum Diameter including valves
154 mm (6.1 in.)
154 mm (6.1 in.)
154 mm (6.1 in.)
Length with hose barb inlet/outlet
397 mm (15.6 in.)
644 mm (25.4 in.)
895 mm (35.2 in.)
Length with sanitary inlet/outlet
335 mm (13.2 in.)
584 mm (23.0 in.)
834 mm (32.8 in.)
T Style
NT6
NT7
NT8
Maximum Diameter including valves
240 mm (9.5 in.)
240 mm (9.5 in.)
240 mm (9.5 in.)
 Length
349 mm (13.7 in.)
598 mm (23.5 in.)
848 mm (33.4 in.)
Typical Flow Characteristics
Kleenpak Nova NP Empty Capsule – Typical Water Flow Rates at 20 °C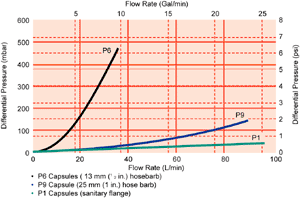 Kleenpak Nova NT Capsule – Typical Water Flow Rates at 20 °C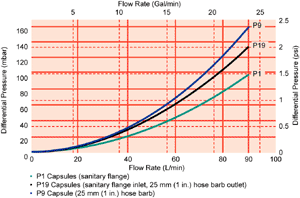 Allegro™ single use systems
Kleenpak™ Nova Sterilizing-grade and Virus Removal Capsule Filters are disposable to help eliminate cleaning problems and maintain sterility. The design provides a choice between in-line or T-style configurations to integrate as a more cost effective alternative into several Pall application systems. No need for housing maintenance and validation lowers maintenance and labor costs.