Description
Features:

Accepts Pall Marksman Series Filter Cartridges
Offset, Side Inlet with Side Outlet (same side or opposite), or Side Inlet with Bottom Outlet configuration available
Positive bag seating without the use of a manual hold-down device
Single gasket cover seal
Models 11, 12: Connections sizes available in either 2" or 3" NPT or flange
Models 13, 14: Connections sizes available in either 1" or 2" NPT or flange
Model 11 - Used for Size 1 Filter Bags
Model 12 - Used for Size 2 Filter Bags
Model 13 - Used for Size 3 Filter Bags
Model 14 - Used for Size 4 Filter Bags
CBFP Model 11, 12 Options
Available with extra length legs and evacuation floats
ASME Code upgrade available
NSF 61 Certification available with CBFP12 304SS and 316SS
Mesh lined and heavy duty rimmed basket available
Sanitary and Victaulic connections (available upon request)
CBFP Model 13, 14 Options
Mesh lined and heavy duty rimmed basket available
Flange, Sanitary and Victaulic connections (available upon request)
Adjustable clamp-on legs in Carbon Steel or 304 Stainless Steel
Preferred Stock Vessels for Sale
Model and Bag Size
Part Number
Description
CBFP 11 Size 1
VB435334AS
CBFP0011A0150N02N02N06A1N STK
VB435334CS
CBFP0011C0150N02N02N06A1N STK
CBFP 12 Size 2
VB432149AS
CBFP0012A0150N02N02N06A1N STK
VB432149CS
CBFP0012C0150N02N02N06A1N STK
CBFP 13 Size 3
VB436752AS
CBFP0013A0150N01N01N02A1N STK
CBFP 14 Size 4
VB436762AS
CBFP0014A0150N02N02N02A1N STK
VB436762CS
CBFP0014C0150N02N02N02A1N STK
Specifications
Vessel Material
A
Carbon Steel
B
304 Stainless Steel
C
316 Stainless Steel
Vessel Pressure Rating (PSI)
0150
150 PSI (10.34 BAR)
Coating/Lining Material
N
None (Standard)
A
Electropolish
F
Paint finish/prep
S
Special
X
Passivation
Design Temperature Range
Carbon Steel
20 to 500°F (-6 to 260°C)
Stainless Steel
-20 to 250°F (-28 to 121°C)
Surface Finish
Carbon Steel
Acrylic enamel painted exterior
Stainless Steel
Light sand blast
Lid Opening Styles
1
Hinge, Swing Bolt
Connections
Flange
NPT
Filter Bag Size
Model 11
Size 1
Model 12
Size 2
Model 13
Size 3
Model 14
Size 4
Number of Bags
1
Code Stamp
None
Maximum Flow Rate, GPM
Model 11
60
Model 12
120
Model 13
15
Model 14
30
NOTE: The maximum flow rate GPM is the MAXIMUM FLOW RATE recommended through the vessel using a 10 micron felt filter bag (PONG10) filtering water. Any increase in fluid viscosity will reduce the maximum GPM figures significantly. Please consult your Pall technical representative when sizing these vessels.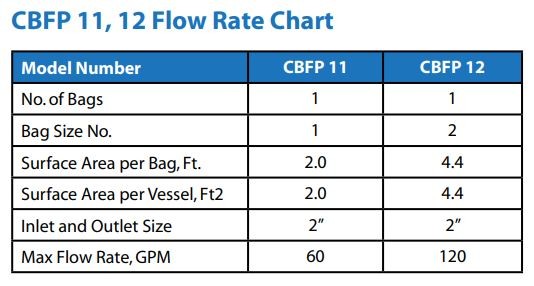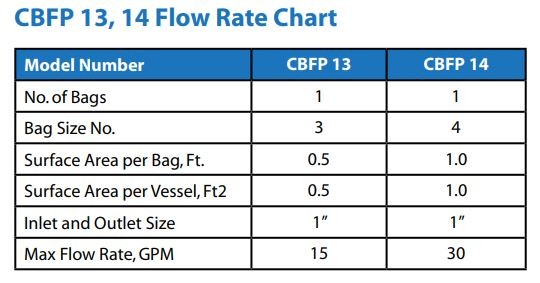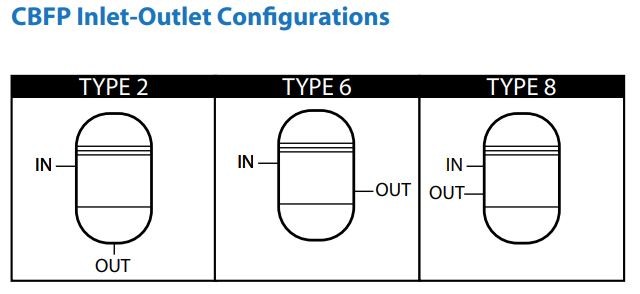 Dimensional Drawings
CBFP 11 Stock

CBFP 12 Stock

CBFP-11-12 #2 npt

CBFP-11-12 #2 flg

CBFP-11-12 #6 npt

CBFP-11-12 #6 flg

CBFP 13 #2 1"NPT STOCK

CBFP 13 #2 1"NPT

CBFP 13 #2 2"NPT

CBFP 13 #6 1"NPT

CBFP 13 #6 2"NPT

CBFP 14 #2 2"NPT STOCK

CBFP 14 #2 1"NPT

CBFP 14 #2 2"NPT

CBFP 14 #6 1"NPT

CBFP 14 #6 2"NPT