Kleenpak™ II Sterile Connectors
For convenient and secure sterile connection of flexible tubing in large volume operations
Kleenpak II sterile connectors allow for the dry connection of two separate fluid pathways, while maintaining the sterile integrity of both, even in an uncontrolled environment. The connector consists of a male and a female connector, each covered by an aluminum peel-away strip that protects the port and maintains the sterility of the sterile fluid pathway prior to connection.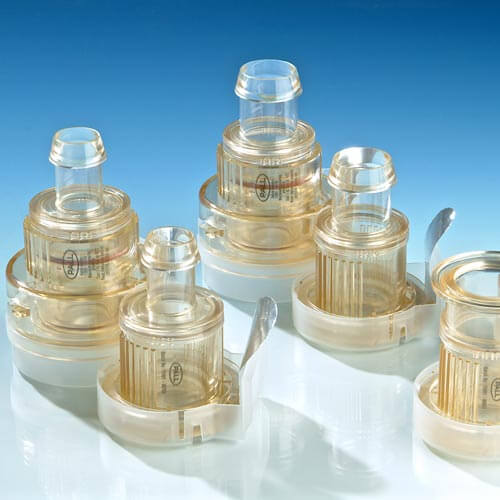 Order Products
Connector Format
Genderless
Product Use
Single-Use Technologies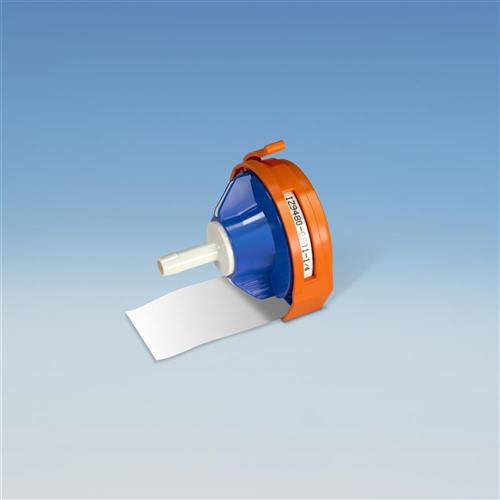 Unit of Measure
1/BOX
Min Order Qty
1
Description
The Kleenpak II sterile connector has been designed to allow for the connection of large processing equipment in order to obtain fast, safe and reliable sterile transfer of large volumes. With this sterile connector, large single-use systems ( > 100 L), such as the Allegro™ systems, will be operated at much faster speeds. There will be minimal fluid restriction in the tubing lines.
Different connector options are available to allow for the connection of 19 mm (¾ in.) and 25.4 mm (1 in.) ID nominal tubing including a 25.4 - 38.1 mm (1 - 1½ in.) sanitary flange compatible fitting for maximum operational flexibility. Kleenpak II sterile connectors can be either gamma irradiated to a maximum of 50 kGy or autoclaved up to 130°C to suit different processing requirements.
Features and Benefits
Fast and easy to make sterile connection (4 simple steps) – even in cramped and uncontrolled environments
No capital equipment required
Permanent connection for security – cannot be disconnected
Available with either 19 mm (¾ in.) and 25.4 mm (1 in.) hose barb fittings or compatible 25.4 - 38.1 mm (1 - 1½ in.) sanitary flange
Allows for the connection of different sizes tubing and material
Can be autoclaved or gamma sterilized
Device makes audible click when properly engaged
Clear actuation and locking mechanism prevents incorrect assembly
Minimal flow restrictions
Caustic resistant - Sodium hydroxide (caustic soda) and sodium hypochlorite (bleach) testing performed
Figure 1
4 easy steps...
Quality Standards
Manufactured under cleanroom conditions in a controlled environment
Manufactured under a Quality Management System certified to ISO 9001
Supplied with a Certificate of Test confirming the quality standards and quality control tests performed by Pall (including leak testing, endotoxin USP <85> and particulate testing)
100% leak tested during manufacture
The fluid path materials of construction have been tested and meet the regulatory requirements of:

USP 85 - Endotoxin
USP 88 - Biological reactivity in vivo for Class VI 121°C plastics
USP 87 - Biological reactivity in vitro
USP 661 - Physicochemical tests
USP 788 - Particulate test

The fluid path materials of construction do not contain substances derived from animal products (i.e. BSE/TSE risk free)
Applications
Connection to perform inocula transfer to reactors
Connection to/from large biocontainers or tanks
Connection to equipment (e.g., bioreactors)
Connection to perform handling of bulk material in an uncontrolled environment
Connection to bioreactor harvest equipment
Connection to a disposable system
Connection to perform probe insertion into biocontainer
Connection to TFF equipment for ultrafiltration
Specifications
Validation Tests
Mechanical tests

Leak (closure integrity); Burst; Creep rupture and pressure hold test; Tensile strength

Functional tests

Extreme temperature pressure leak test strength and performance testing
Water flow characteristics
Bacterial spore challenge ("soiling") test
Autoclave and gamma resistance

Shelf life studies
Extractables - Water and Ethanol results available on request

Absence of BPA (Bisphenol-A) and phthalates
Please refer to product validation guide (USTR 2820) for further details of the validation tests performed.
Materials of Construction
| Product Contact Parts | Material of Construction |
| --- | --- |
| Connector body / plunger | Polysulfone |
| O-ring | Silicone |
| Product Non-Contact Parts | Material of Construction |
| --- | --- |
| Protective cap | Polypropylene |
| Rubber seals | Thermoplastic elastomer |
| Peel-away strip | Aluminum foil with polyester coating |
Extractables (NVR)(1)
| Aqueous Extractables | Value |
| --- | --- |
| Water at 60 – 65 °C after gamma irradiation at 50 kGy and autoclaving at 130 °C | Typically < 1 mg |
| Ethanol at 20 – 25 °C after gamma irradiation at 50 kGy and autoclaving at 130 °C | Typically < 5 mg |
1 Performed on 2 pairs of connectors in series

Sterilization Methods
Please refer to Instructions for Use (USD 2892) for sterilization methods.
| Sterilization Method | Guidance |
| --- | --- |
| Gamma irradiation | Maximum 50 kGy |
| Autoclave | One 75 minute cycle at 130 °C |
Dimensions
| | 19 mm (¾ in.) Hose Barb | 25.4 mm (1 in.) Hose Barb | 25.4 - 38.1 mm (1 - 1½ in.) Sanitary Flange |
| --- | --- | --- | --- |
| Male | KPC03M5 | KPC03M9 | KPC03M1 |
| Female | KPC03F5 | KPC03F9 | KPC03F1 |
| Internal diameter (A) | 17.3 mm (0.68 in.) | 24.2 mm (0.95 in.) | 32.15 mm (1.27 in.) |
| Length when actuated (B) | 162 mm (6.38 in.) | 162 mm (6.38 in.) | 138 mm (5.43 in.) |
| Female connector length with cap (C) | 79.15 mm (3.1 in.) | 79.15 mm (3.1 in.) | 67.15 mm (2.64 in.) |
| Maximum diameter of female connector with cap (D) | 60 mm (2.36 in.) | 60 mm (2.36 in.) | 60 mm (2.36 in.) |
| Male connector length length with cap (E) | 101.5 mm (4 in.) | 101.5 mm (4 in.) | 89.5 mm (3.52 in.) |
| Maximum diameter of male connector with cap (F) | 66 mm (2.6 in.) | 66 mm (2.6 in.) | 66 mm (2.6 in.) |


Figure 2
Dimensions
Performance
Operating Conditions(2)
Parameter
Value
Operating pressure and temperature range

Up to 4 bar at 2 - 40 °C short-term use

Up to 3 bar at 2 - 40 °C long-term use
2Testing performed at the following conditions:

Long term: 2° C and 40° C at 3 barg (43.5 psig) for 30 days
Short term: 2° C and 40° C at 4 barg (58 psig) for 2 days
Figure 3
Kleenpak II Sterile Connector Flow/Differential Pressure