Non-Sterile Syringe Filters
Pall supplies a range of non sterile syringe filters that can be used across a range of sample preparation applications. Pall's Acrodisc® syringe filters can be used for prefiltation, general filtration and in critical analytical sample preparation applications.
In 1974 Pall revolutionized sample preparation for analytical chemists with the development of the Acrodisc syringe filter. Today Pall continue to produce high-quality filters for sample preparation and dissolution testing. Acrodisc syringe filters protect analytical instruments and ensure the integrity of results.
Pall selects the highest grade filter materials and housings that can be used for, and certified for use in applications such as HPLC, UHPLC, LCMS, and IC applications.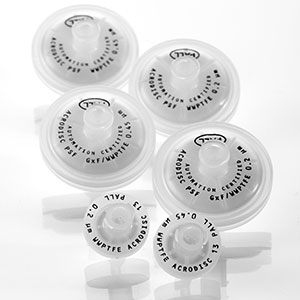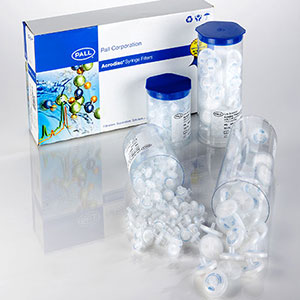 Order Products
No Results Found:
Your search for "" returned 0 results.
Description
A filter for analytical chemistry sample preparation applications is designed to increase accuracy by removing unwanted particles, filtration can extend the life of consumable analytical instruments parts, decrease system wear and tear, and preserve the integrity of an analytical system. However, an incorrectly chosen or a poor quality syringe filter can be a source of contaminants in the form of extractables that elute into the sample from the filter device. These undesired artifacts can jeopardize analytical results. Some extractable concerns include coelution, false quantitation, and extraneous peaks.
Pall specifically selects the highest grade materials and performs rigorous extraction methods on our membrane products to eliminate the occurrence of undesired artifacts.
Pall's superior media separation technology ensures:
Accurate pore size ratings for better chromatography instrument and column protection
Uniform membrane materials (lot-to-lot) for consistent analytical results
Low extractable materials for less chromatographic interference
Materials of construction selected specifically for analytical analysis with lower extractables and lower API adsorption
Pall's Acrodisc syringe filters are available in different sizes with a choice of membranes to suit your application and workflow requirements. Pall supply non sterile syringe filters with housing constructed of either acrylic or polypropylene polymers. Polypropylene syringe filters are the optimal choice for analytical sample preparation. Pall's polypropylene non-sterile syringe filter housing is chemically resistant to harsh solvents, is low in extractables and low in API and biomolecular compound adsorption.
Chemical compatibility is a critical consideration when selecting a syringe filter. An incorrectly chosen filter may lead to chemical or particulate contamination of a sample. The following broad guidelines can be used for basic information when selecting a membrane of choice:
Aqueous Samples
Hydrophilic membranes, which have an affinity for water, are preferable when filtering aqueous samples. Use Pall filters with wwPTFE, PES, Nylon, or PVDF membranes.
Gases and Aggressive Organic Solvents
Hydrophobic membranes repel water and are inert to aggressive organic solvents, making them ideal for gases and organic solvents. Choose Pall filters with PTFE membrane.
Aqueous and Organic-Solvent Solutions
Different polymeric membranes have different chemical compatibilities. Based on the application and chemical compatibility, there may be one or several membranes and Acrodisc syringe filter possibilities. Generally, one filter type will not function for all applications due to limitations in hydrophobicity/hydrophilicity and chemical compatibility. However, Pall's hydrophilic wwPTFE membrane is a universal membrane for both aqueous and organic applications.
The following diameter syringe filters are available:
| Volume to be filtered | Acrodisc syringe filter type | Typical hold-up volume |
| --- | --- | --- |
| < 2 mL | 4 mm Acrodisc Syringe Filter | < 10 μL |
| < 10 mL | 13 mm Acrodisc Syringe Filter (Minispike) | < 14 μL |
| < 10 mL | 13 mm Acrodisc Syringe Filter | < 30 μL |
| < 125 mL | 25 mm Acrodisc PSF Syringe Filters | < 200 μL |
Two versions of the 13 mm Acrodisc syringe filter are available, one with a standard luer outlet and one with a proprietary minispike outlet. The minispike allows for easy handing with a HPLC vial, and also offers a reduced hold-up volume, ensuring maximum filtrate recovery.
Pall's 25 mm Acrodisc PSF syringe filters are ideal for High Performance Liquid Chromatography (HPLC) and UHPLC sample processing and clarification.
Accurate pore size rating – Acrodisc PSF syringe filters are more retentive than standard 25 mm devices and are available with single-layer membranes or multilayer glass fiber prefilters
Superior HPLC column protection – Better retention efficiency helps extend column life as much as 52 times
Quick and easy filtration – GxF multi-layer prefilter provides two to four times the throughput of standard glass fiber prefilter devices
Safety feature – Filter housing has been designed to withstand high operating pressure to avoid filter burst during use

Versatile – Available with a water wettable wwPTFE membrane for maximum chemical compatibility, fast flow rates, low protein binding and low levels of UV absorbing extractables

Automation certified – Designed to be fully compatible and reliable for use with automated test systems.
Pall certifies Acrodisc PSF syringe filters with PTFE, Nylon, PVDF or wwPTFE membranes to be low in UV absorbing extractables. HPLC certification ensures that analytical results will not be compromised by extractable filter materials.
To verify low levels of UV-detectable extractables, samples of the HPLC Acrodisc syringe filter line are randomly taken and tested for compatibility with common HPLC solvents using standard HPLC conditions.
Acrodisc PSF syringe filters are specifically designed to meet the requirements of automation systems and to demonstrate critical criteria including smooth filter-to-filter release, consistent turret advancement, exceptional housing strength and a strict outside filter geometry to ensure proper alignment and consistent operation.
Pall's Acrodisc PSF syringe filters are manufactured to the critical tolerances necessary to ensure accurate and reliable performance. These filters have been engineered to specific dimensions to provide uniform housing and optimized inlet and outlet designs. Stringent adherence to such critical dimensions is vital in ensuring consistent filter delivery, positioning and operation of each and every filter that passes through your automated workstations.
Pall supplies syringe filters which are ideal for use in ion chromatography sample preparation and LCMS sample preparation.
The Ion Chromatography (IC) Acrodisc Syringe Filters are optimized to provide consistent results when analyzing ionic species.
The unique Acrodisc MS Syringe Filters are certified syringe filters designed for requirements of LCMS sample preparation. They feature extremely low levels of extractables and minimize the risk of ion suppression/enhancement resulting in more reliable and accurate results.
Document
Datasheet
Tech Guide: Acrodisc Syringe Filters for Analytical Sample Preparation
Applications
General aqueous samples
Prefiltration of particulate laden samples
HPLC/UHPLC sample preparation
Ion Chromatography sample preparation
LCMS sample preparation
Dissolution testing
FAQs
Why Are There So Many Different Acrodisc Syringe Filter Types?
Different polymeric membranes have different chemical compatibilities. Based on the application and chemical compatibility, there may be one or more non-sterile Acrodisc or Acrodisc PSF syringe filter possibilities. For example, PVDF or wwPTFE membranes are recommended for sample fluids possessing strong acidic character. Nylon membrane is not recommended for such samples. Conversely, nylon or wwPTFE, would make a better choice for fluids characterized as strong bases, while PVDF membranes are not suggested for these fluids. If the fluid contains aggressive organics, wwPTFE or PTFE membranes are recommended.
Reviewing and understanding the Pall Acrodisc Technical Guide will assist in making the best choice.
Generally, one filter type will not function for all applications due to limitations in hydrophobicity/hydrophilicity and chemical compatibility. However, Pall's wwPTFE membrane is a universal membrane for all HPLC/UHPLC sample preparation applications. It has excellent chemical compatibility for aqueous and aggressive organic solvents. Pall's wwPTFE membrane is hydrophilic and ideal when selection is difficult for complex sample matrices. The option of a built-in glass prefilter (GxF/wwPTFE) is also available for heavily particulate-laden samples.
What Contributes to an Acrodisc Syringe Filter's Quality?
Membrane manufacturers use proprietary formulations and different manufacturing techniques. For this reason, Pall's membranes and Acrodisc and Acrodisc PSF syringe filters are not the same as other look-alike products. The specific quality of raw materials, amount of quality control, membrane extraction procedures, and post-treatments all affect the resultant membrane properties and amount of extractable materials.
Pall specifically selects the highest grade of materials and performs several extractions to ensure that the product is free from extractable materials for sample preparation. Additionally, our polypropylene housing material, is the highest grade of plastic with minimal additives, and passes United States Pharmacopeia (USP) Biological Reactivity Test, In Vivo <88> plastics testing.