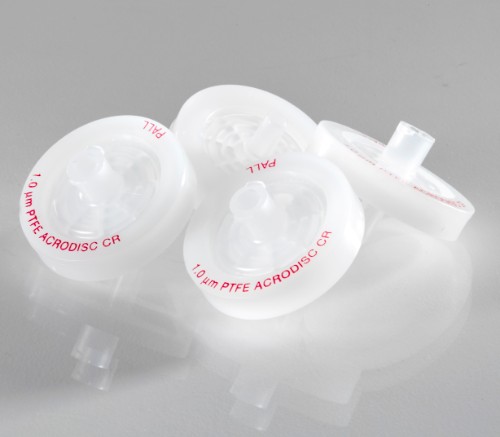 Product image is a representative example for illustration purposes. Actual product may vary.
Acrodisc® Syringe Filters with PTFE Membrane - 0.2 µm, 25mm (50/pkg, 200/cs)
Product ID: 4225 Need this product with different specifications
Pore Size
0.2 µm µm nominal
Effective Filtration Area (Metric)
2.8 cm²
Filter Media
Hydrophobic PTFE
Housing Material
polypropylene
Maximum Operating Pressure (bar)
2.1 bar
Maximum Operating Temperature (Metric)
100 °C
Typical Flow Rate
245 mL/min at 1.0 bar (100 kPa, 15 psi)
---
Syringe filters are used in analytical chemistry applications to remove particulate contamination prior to analysis. Filtering a sample prior to sample injection into analytical instrumentation will help protect sensitive parts of the instrument from particulate build-up and reduce system downtime. Sample filtration using syringe filters containing 0.45 μm (HPLC) or 0.2 μm (UHPLC) pore size membranes will also extend the life of chromatography columns by preventing particulate from blocking the flow path between the column packing.

PTFE membrane is highly chemically compatible for the filtration of harsh solvents that can destroy other membrane materials. PTFE is a hydrophobic membrane, so it will repel water and is not suitable for the filtration of aqueous solutions.

As well as being suitable for the filtration of organic solvents in applications such as HPLC and UHPLC sample preparation, the hydrophobic nature of the PTFE membrane makes these syringe filters ideal to use in gas filtration or as a moisture barrier in venting applications.

25 mm Standard Acrodisc Syringe Filters
Ultimate in chemical compatibility for filtering harsh chemicals that destroy other membrane materials.
The Acrodisc PSF GxF syringe filter provides two to four times the throughput of standard prefilter devices.
Moisture barrier for venting applications.
25 mm Acrodisc PSF syringe filter is available in robotic-compatible AutoPack™ packaging.
Pall Laboratory products are designed for laboratory applications only. This product is not approved for use in medical, clinical, surgical or other patient applications. If you require further assistance in product selection for your chosen application, please contact Labcustomersupport@pall.com or call 1-800-521-1520.
Sterile Filtration and Clarification