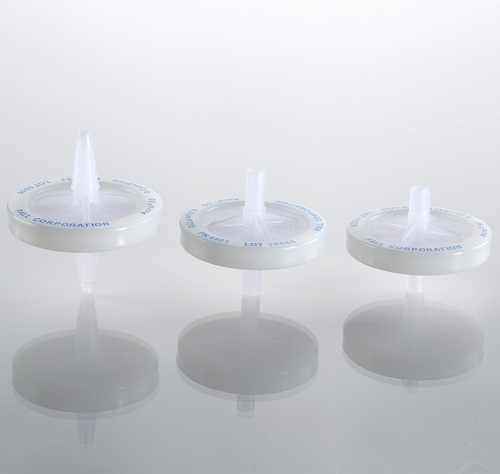 Product image is a representative example for illustration purposes. Actual product may vary.
Acro® 50 Vent Devices with PTFE Membrane - 0.45 µm, hose barb (18/pkg)
Product ID: 4256Need this product with different specifications
Connections
Stepped hose barb
EFA (Effective Filtration Area)
19.6 cm²
Pore Size (Removal Rating)
0.2 µm
---
Description
0.45 µm, hose barb (18/pkg)
Specifications
Materials of Construction
Filter Media: PTFE on a polypropylene support
Housing: Polypropylene
Filter Diameter
50 mm
Effective Filtration Area
19.6 cm2
Typical Air Flow Rates
0.2 μm: 8 Lpm at 0.2 bar (20 kPa, 3 psi)
0.45 μm: 12 Lpm at 0.2 bar (20 kPa, 3 psi)
1 μm: 15 Lpm at 0.2 bar (20 kPa, 3 psi)
Maximum Operating Temperature
130 °C (266 °F) at 1.0 bar (100 kPa, 15 psi)
Maximum Operating Pressure
4.1 bar (410 kPa, 60 psi) at ambient temperature
Dimensions
Overall Length: 8.2 cm (3.2 in.)
Diameter: 7.3 cm (2.9 in.)
Inlet/Outlet Connections
Stepped hose barbs, 6.4-12.7 mm (1/4-1/2 in.) diameter. Connections have internal taper design to accept male slip luer. The 0.2 μm pore size devices are available with 1/8 in. MNPT or 3/8 in. (9.5 mm) OD straight type connections. The 1 μm pore size device is also offered with a 1/8 in. MNPT connection.
Biological Safety
Passes United States Pharmacopeia (USP) Biological Reactivity Test, In Vivo
Minimum Bubble Point (IPA, 100%)
0.2 µm: 1.03 bar (103 kPa, 15 psi)
0.45 µm: 0.34 bar (34 kPa, 5 psi)
1 µm: 0.21 bar (21 kPa, 3 psi)
Sterilization
Autoclaving
Wrap the Acro 50 vent filter in autoclave paper and autoclave at 121-123 °C (250-253 °F) at approximately 1.0 bar (100 kPa, 15 psi) for a maximum of 20 minutes. Note: It may be necessary to run a drying cycle or air purge to remove residual condensation from the product before using. Reuse requires individual integrity testing and consideration for other problems including cross-contamination.
EtO
Specific cycles for sterilization and associated studies should be validated by the user.
Gamma Irradiation
Not recommended.
"Pall Laboratory products are designed for laboratory applications only. This product is not approved for use in medical, clinical, surgical or other patient applications. If you require further assistance in product selection for your chosen application, please email us a question or call 1-800-521-1520."
Type
Vent Filters
Use
Sterile Filtration and Clarification