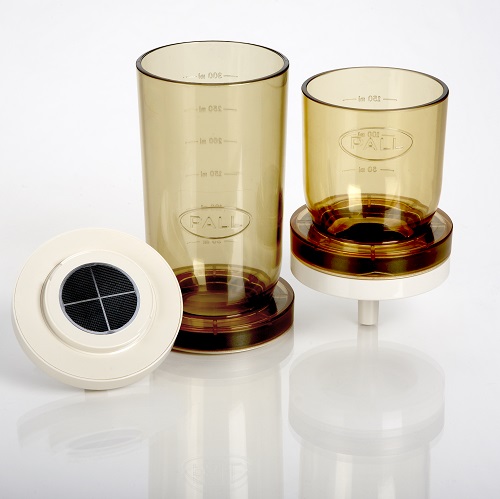 Product image is a representative example for illustration purposes. Actual product may vary.
Sentino® Magnetic Filter Funnel, 300 mL, 47 mm (1/pkg)
Product ID: 4273 Need this product with different specifications
Autoclavable
121 - 123 ºC (250-253 ºF) at 1.0 bar (100 kPa, 15 psi) for 15 - 20 minutes
Cylinder, Stem, Support Screen
Polyphenylsulfone
Diameter (Imperial in)
3 in
Diameter (Metric cm)
7.6 cm
Dimensions (Imperial in)
3 in
EFA (Effective Filtration Area)
9.6 cm²
Filter Size
Accepts 47 mm
Funnel Capacity (Metric mL)
300 mL
Height (Imperial in)
6.6 in
Height (Metric cm)
16.8 cm
Sterilization
UV Sterilizable
---
Designed for use with the Sentino Microbiology Pump. Unique magnetic seal allows easy, one-handed vacuum filtration of liquids.

The Sentino magnetic filter funnels feature a unique magnetic closure action providing for a simple one-handed asceptic operation. The funnel features a sturdy construction that is shatterproof and can withstand multiple autoclave cycles.


No-leak magnetic seal allows one handed operation.
Polyphenylsulfone construction is compatible with anti-foaming agents and many other solvents.
Available in three sizes – 150, 300 and 500 mL. Convenient 150 mL size easily fits into small autoclaves; 500 mL size is ideal for large sample filtration.
Sturdy and safe. Polyphenylsulfone construction provides durability and added safety at a cost less than most glass funnels.
Forceps access point allows easy filter retrieval.
Graduated at 50 mL increments for accurate sample measurement.
Pall Laboratory products are designed for laboratory applications only. This product is not approved for use in medical, clinical, surgical or other patient applications. If you require further assistance in product selection for your chosen application, please email us a question or call 1-800-521-1520.
Sterile Filtration and Clarification