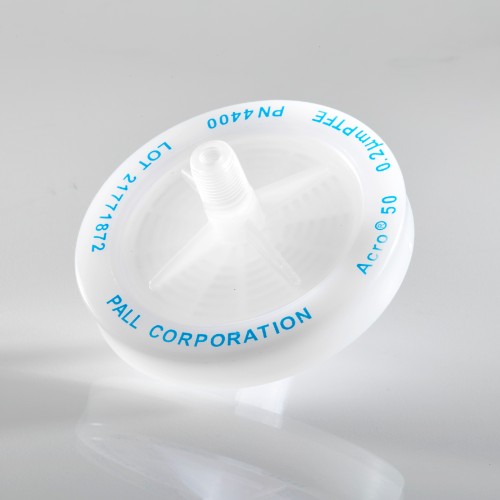 Product image is a representative example for illustration purposes. Actual product may vary.
---
Description
50 mm Filters with Superior Performance for Demanding Applications. Used for Venting bioreactors, fermentation tanks, and carboys. 0.2 µm, 1/8 in. MNPT (18/pkg), Pall Acro 50 Vent Devices with PTFE Membrane - In-Line Vents, 1/8 in. MNPT (18/pkg)
"Pall Laboratory products are designed for laboratory applications only. This product is not approved for use in medical, clinical, surgical or other patient applications. If you require further assistance in product selection for your chosen application, please contact or call 1-800-521-1520."
Applications
Venting bioreactors, fermentation tanks, and carboys
Sterile gas purging of culture vessels
Filtering aggressive solvents
Specifications
Materials of Construction
Filter Media: PTFE on a polypropylene support
Housing: Polypropylene
Effective Filtration Area
Dimensions
Overall Length: 8.2 cm (3.2 in.)
Diameter: 7.3 cm (2.9 in.)
Inlet/Outlet Connections
Stepped hose barbs 6.4 - 12.7 mm (1/4 - 1/2 in.) diameter, 1/8 in. MNPT, 9.5 mm (3/8 in.) straight pipe
Maximum Operating Pressure
4.1 bar (410 kPa, 60 psi) at ambient temperature
Recommended Integrity Test Minimum Bubble Point – IPA, 100%
0.2 µm: 1.03 bar (103 kPa, 15 psi)
0.45 µm: 0.34 bar (34 kPa, 5 psi)
1 µm: 0.21 bar (21 kPa, 3 psi)
Typical Air Flow Rates
L/min at 0.2 bar (20 kPa, 3 psi)
0.2 μm: 8
0.45 μm: 12
1 μm: 15
Biological Safety
Passes United States Pharmacopeia (USP) Biological Reactivity Test, In Vivo <88>
Sterilization
Provided non-sterile. All are individually packaged (except PN 4250).
Can be sterilized by autoclaving at 121 - 123 °C (250 - 253 °F) for 20 min. Integrity should be verified after each autoclave cycle and before use
Type
Vent Filters
Use
Sterile Filtration and Clarification