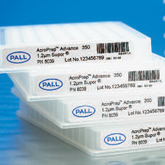 Product image is a representative example for illustration purposes. Actual product may vary.
AcroPrep Advance 96-Well Filter Plates - 350 µL, Mustang S (cation exchange) membrane
Product ID: 8072 Need this product with different specifications
Filter Media
Mustang S (cation exchange)
Pore Size (Removal Rating)
0.8 µm
Sample Volume
< = 3 00 μL
Height (Metric cm)
1.8 cm
Length (Metric cm)
12.8 cm
Plate Housing Material
polypropylene
Recommended Centrifugal Force
1500 g
Recommended Operating Vacuum
10 in Hg
---
AcroPrep Advance 96-Well Filter Plates - 350 µL, with Mustang S membrane can be used in high throughput ion exchange (IEX) applications.

Mustang S membrane is a proprietary membrane that has strong cation exchange capabilities. The membrane exhibits fast flow rates that do not affect binding and recovery. The typical binding capacity per well is 0.29 mg/well of Lysozyme.

Applications that are well-suited for use with Mustang S membrane include kinase assays and the binding/elution of positively-charged proteins.

Pall offer two IEX membranes, made from polyethersulfone (PES) material, with strong IEX ligands, quaternary amine and sulfonic functional groups on Mustang Q (strong anion) and Mustang S (strong cation) membranes respectively. Mustang IEX membranes deliver efficient and rapid flow rates with a convective pore structure that results in processing times that are much shorter and more efficient than conventional resin-based technologies. Mustang devices have throughputs of up to 100 times that of traditional bead-based media with no associated loss of capacity.

AcroPrep filter plates are constructed from chemically resistant and biologically inert polypropylene which means that the plates themselves are low in binding to nucleic acids and proteins. The polypropylene construction provides durability when using harsh organic solvents, preventing unwanted extractables and leachables.

A patented design and unique sealing mechanism is used to individually seal filter media into each well of the plate, preventing crosstalk and the possibility of cross contamination from one well to another. Optimized outlet tips minimize sample leakage during incubation steps and reduces the presence of hanging drops following filtration.

The filter plates feature a smooth well design that provides consistency in filtration times, as well as efficient sample recovery.

Pall AcroPrep filter plates are designed to meet the stringent requirements for high throughput applications and are manufactured to meet the microplate standards ANSI/SLAS 1-2004 through ANSI/SLAS 4-2004, allowing plates to be run in manual, semi-automated, and automated processes. A rigid single piece construction prevents plates from flexing or jamming in robotic systems, whilst barcode labeling allows for easy sample tracking and identification.