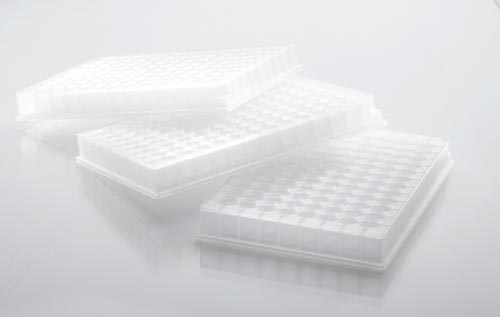 Product image is a representative example for illustration purposes. Actual product may vary.
---
AcroPrep Advance Filter Plates - 1 mL with 0.2 µm wwPTFE membrane can be used for the high-throughput filtration of both aqueous and organic samples. The water wettable Polytetrafluoroethylene (wwPTFE) is a universally chemically compatible membrane and offers fast flow rates, low protein binding, and low levels of UV-absorbing extractables.

AcroPrep filter plates are constructed from chemically resistant and biologically inert polypropylene which means that the plates themselves are low in binding to nucleic acids and proteins. The polypropylene construction provides durability when using harsh organic solvents, preventing unwanted extractables and leachables.

A patented design and unique sealing mechanism is used to individually seal filter media into each well of the plate, preventing crosstalk and the possibility of cross contamination from one well to another. Optimized outlet tips minimize sample leakage during incubation steps and reduces the presence of hanging drops following filtration.

Pall AcroPrep filter plates are designed to meet the stringent requirements for high throughput applications and are manufactured to meet the microplate standards ANSI/SLAS 1-2004 through ANSI/SLAS 4-2004, allowing plates to be run in manual, semi-automated, and automated processes. A rigid single piece construction prevents plates from flexing or jamming in robotic systems, whilst barcode labeling allows for easy sample tracking and identification.