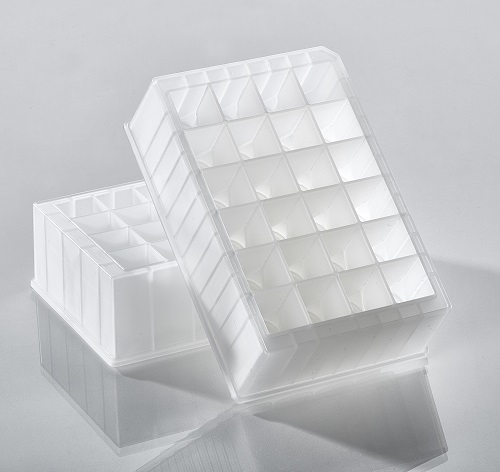 Product image is a representative example for illustration purposes. Actual product may vary.
---
AcroPrep 24-well Filter Plates with 5 µm Supor (hydrophilic polyethersulfone) can be used for a number of aqueous filtration applications including clarification, multiplexing assays, protein purification and general sample preparation. The filter plates are gamma irradiated and individually bagged to offer ease of use.

Supor membrane is a high flow rate membrane optimized for biological, pharmaceutical research, and sterilizing filtration requirements. It features low protein binding properties and extensive chemical compatibility for critical applications.

The high performance Supor membrane has a consistent physical structure with a smooth surface morphology, this makes it ideal for use in bead based assays as the microspheres do not get trapped in the the membrane, allowing for efficient bead recovery.

Supor membrane is widely available in other laboratory filtration products from Pall.

AcropPrep 24-well filter plates allow up to 7 mL of sample to be filtered in each well, eliminating the need to process samples with other labor intense methods and resulting in time savings. Researchers can confidently incorporate Pall 24-well filter plates into their workflow without costly and time-consuming membrane evaluations.

AcroPrep filter plates are constructed from chemically resistant and biologically inert polypropylene which means that the plates themselves are low in binding to nucleic acids and proteins. A patented design and unique sealing mechanism is used to individually seal filter media into each well of the plate, preventing crosstalk and the possibility of cross contamination from one well to another. The filter plates feature a smooth well design that provides consistency in filtration times, as well as efficient sample. All plates come with a receiver plate and a lid.

Pall AcroPrep filter plates are designed to meet the stringent requirements for high throughput applications and are manufactured in accordance with SBS guidelines, allowing plates to be run in manual, semi-automated, and automated processes. A rigid single piece construction prevents plates from flexing or jamming in robotic systems, whilst barcode labeling allows for easy sample tracking and identification.