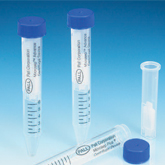 Product image is a representative example for illustration purposes. Actual product may vary.
Microsep Advance Centrifugal Devices with Omega Membrane 3K, gray (100/pkg)
Product ID: MCP003C46Need this product with different specifications
Product Group
Microsep™ Advance Centrifugal Devices

Sample Volume
0.5 to 5 mL

Sample Resevoir Material
Polypropylene

Filter Media
Omega (modified polyethersulfone)

MWCO or pore size
3 K

Effective Filtration Area
3.3 cm²

Hold Up Volume
40 μL

---
Description
Precise, Quick Recovery of Microliter Volumes

Achieve 50X concentration and > 90% recovery in just minutes
Deadstop feature prevents samples from spinning to dryness
Versatile Omega™ membrane is available in a variety of MWCOs
Color-coded and laser etched for easy identification


"Pall Laboratory products are designed for laboratory applications only. This product is not approved for use in medical, clinical, surgical or other patient applications. If you require further assistance in product selection for your chosen application, please email us a question or call 1-800-521-1520."
Applications
Ultrafiltration
Concentrate dilute protein samples prior to electrophoresis
Exchange buffer and remove salt in samples
Isolate low molecular weight compounds from fermentation broths for natural product screening
Recover biomolecules from cell culture supernatants or lysates
Microfiltration
Clarify samples with gross particulate
Remove particulate from samples for HPLC analysis of drugs, amino acids, and antibodies
Type
Centrifugal Filters
Use
Sample Concentration, Desalting, Buffer exchange
Application
Plasmid Purification