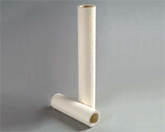 Product image is a representative example for illustration purposes. Actual product may vary.
Profile® II, Filter Cartridges, Polypropylene, Length 10 Inches
Product ID: R1F005
Click Request a Quote to get a quote on this product.
Membrane Material
Polypropylene
Filter Cartridge Style
RF-style
Cartridge Length (Imperial)
10 in
Cartridge Length (Metric)
254 mm
Cartridge Length (Metric)
25.4 cm
End Configuration
R type housing
Cartridge Outer Diameter (OD) (Imperial)
2.5 in
Cartridge Outer Diameter (OD) (Metric)
6.4 cm
---
---
Similar products in this line
The all-polypropylene construction of the 10-inch RF Profile II Series filter ensures broad chemical compatibility, making the filter suitable for use in various fluids. The filter provides a removal efficiency of >99.98% at the stated micron rating in compatible liquids with highly consistent filtration performance.