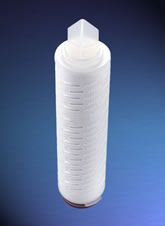 Need Help?

More Information

Description
Pall Posidyne filter cartridges incorporate a patented covalent charge-modified Nylon 6,6 membrane which exhibits a net positively-charged Zeta potential in aqueous solutions. This positive Zeta potential provides enhanced retention of fine particles smaller than the membrane's rating, such as endotoxins in water, in a direct flow mode without the higher pressure drop of finer filters. High-area pleated into single open-ended (SOE) AB sanitary-style cartridges, N66 Posidyne filters are available in particulate and bioreduction grades and in sterilizing-grades.
Features and Benefits
Inherently water wettable 
Resin and surfactant-free 
Positive Zeta potential 
Enhanced retention of particles smaller than filter rating
Removes endotoxins from water
High protein recovery from sera and most protein solutions 
Low filter extractables 
100% integrity-tested 
Individually serialized 
Manufactured for use in conformance with cGMP 
ISO 9000 Certified Quality System 
Pharmaceutical P optimized grades with Certificate of Test provided
Validation Guide available
Note: These filters are also available in Kleenpak Nova capsule format.

Quality and Bio-Safety

Biological Tests
Meets USP Biological Reactivity Test, in vivo, for Class VI-121 °C Plastics
Effluent Quality Tests*
Meets Cleanliness per USP Particulates in Injectables 
Non-Fiber-Releasing 
Non-Pyrogenic per USP Bacterial Endotoxins (< 0.25 EU/mL) 
Meets Total Organic Carbon and Water Conductivity per USP Purified Water, pH per USP Sterile Purified Water
* Per lot sample soak or rinse-up flush aliquots.