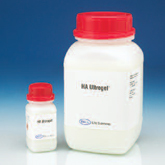 Need Help?

More Information

Description
For the Separation of Proteins,
Peptides, and Nucleic Acids
High binding capacity and high flow rates
Structure provides excellent rigidity and stability to pH and ionic strength changes, as well as to high temperature
Easy cleaning with sodium hydroxide
Scalable from research and development to manufacturing

"Pall Laboratory products are designed for laboratory applications only. This product is not approved for use in medical, clinical, surgical or other patient applications. If you require further assistance in product selection for your chosen application, please contact Labcustomersupport@pall.com or call 1-800-521-1520."