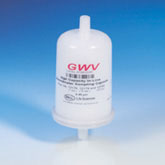 Need Help?

More Information

GWV High Capacity Groundwater capsule
Description
Superior Flow Rates and Higher Throughputs
75 Metals Analysis Certification is printed on each package.
Meets filtration requirements of the U.S. EPA.
Available in a variety of pore sizes to meet regional regulatory requirements.
Save time and money. Self-contained devices reduce the need for costly decontamination and multiple filter change steps associated with reusable filter holders.
Ensures rapid filtration. GWV provides five times the filtration area of conventional 142 mm filters.
"Pall Laboratory products are designed for laboratory applications only. This product is not approved for use in medical, clinical, surgical or other patient applications. If you require further assistance in product selection for your chosen application, please email us a question or call 1-800-521-1520."