Need Help?

More Information

Description
Ideal for buffer preparation and product contact mixing
Features and Benefits
Superconductive levitation technology. No shaft, seals or bearings inside the single-use mixer system: No mechanical shear.
High level of flexibility. Use one drive unit for multiple tank sizes to mix from 6 L to 1000 L.
Proven mixing technology capable to suspend powders and other solids without clogging or shearing.
Overview
The LevMixer system is specifically designed to fulfill the needs of the bioprocess industry. This system is a mobile, flexible mixing system that allows efficient and reproducible singleuse mixing of a wide range of volumes in a broad series of applications ranging from buffer preparation to final formulation. The LevMixer hardware has been engineered for use with Pall single-use systems (SUS) in cGMP certified cleanrooms.
The LevMixer system consists of an interchangeable superconducting drive unit and proprietary levitating impellerbased single-use mixing system fitted into either plastic tanks located on a trolley or stainless steel tanks. Once charged and coupled with the single-use system, the superconducting drive unit induces levitation and rotation of the impeller (Figure 1) resulting in effective mixing action inside a closed mixing system. Coupling of the impeller with the drive motor requires no dynamic seals or shaft penetration inside the single-use system. The drive motor is enclosed on a portable cart that can be easily disconnected from the single-use system and reconnected to another mixing system, allowing mixing in multiple single-use mixing systems of various sizes with a single drive unit.
The LevMixer system includes a real-time reading of the impeller speed and a process monitoring/alert capability. In case of any process disruption, the user is alerted. End users may access a detailed activity report during on-going applications to monitor the mixer either on site, or remotely from a different location.
Figure 1
The levitating impeller rotates inside a sterile single-use mixing system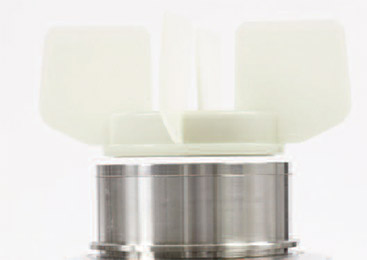 Additionally, the mixer may either be controlled on site or remotely, based on user preference. When operating onsite, users will benefit from an easy-to-use touchscreen PLC that features access to the mixing recipe in use.
The LevMixer system utilizes disposable mixing biocontainers made from Allegro™ TK8 bioprocess film. The product-contacting layer of Allegro TK8 film is blow-extruded in-house by Pall Life Sciences under cleanroom conditions using medical-grade ultra low-density polyethylene resin. It is then laminated to create a gas barrier film of exceptional cleanliness, strength, and clarity that is animal derived component free (ADCF) and complies fully with USP Class VI requirements.
Figure 2
Mobile and flexible, the LevMixer system allows efficient mixing in a wide range of volumes