Pall Rigimesh filter discs are made of stainless steel woven wire mesh made rigid by sintering, a process which produces fusion bonds at all contact points.  Sintering maintains the uniformity of the original weave and fixes the hole size, shape, and micron rating of the mesh. Sintering also increases the puncture and fatigue resistance of the mesh.
Filter discs are available in reinforced and non-reinforced styles.
PALL AEROPOWER P/N:  20020-

-


RIGIMESH FILTER DISC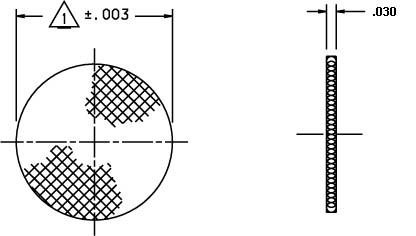 Nominal Filtration
Rating (Microns)

Thickness
"T" (Ref.)
(Inches)
R/M
Grade
2
.003
H
5
.006
K
10
.006
J
17
.006
M
40
.011
R
70
.010
S
105
.011
Y
940
20X20X.014 WIRE
NOTES AND SPECIFICATIONS:
    FIRST DASH NO. SPECIFIED DIAMETER IN THOUSANDTHS OF AN INCH.
    SECOND DASH NO. SPECIFIED NOMINAL MICRON RATING.
   3.    FOR UN-REINFORCED FILTER DISC (2 MICRON THRU 100 MICRON) SEE P/N 20001--
   4.    FILTER MEDIUM:  RIGIMESH® SINTERED WOVEN WIRE MESH, AISI TYPE 304L SERIES, CRES.
   5.    THICKNESS FOR 160 MICRON NOMINAL 15  .025.
   6.    NOT AVAILABLE FOR  GREATER THAN 160.
   7.    FOR "REVERSE PUNCHED" DISC SEE P/N 25587-- .
   8.    OTHER RATINGS AVAILABLE UPON REQUEST.