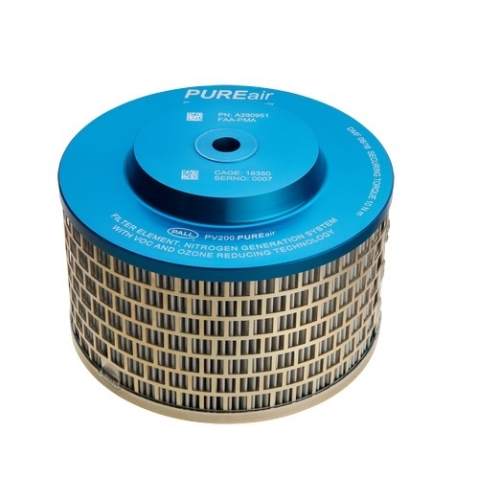 Need Help?

More Information

Description
Current available solutions that look to protect the NGS (Nitrogen Generating System) Air Separation Module (ASM), only provide a 2-stage filtration process that removes particulate, oil and water mist contamination from engine bleed air but leaves the ASM exposed to Ozone and Volatile Organic Compounds. 
The PV200 incorporates 2 additional stages, an Ozone Catalyst and a Carbon Adsorber to enable removal of all damaging contaminants. The ozone removal efficiency of the ozone catalyst in the Pall pre-filter is superior to that of the upstream ozone catalyst and will enable the upstream ozone catalyst to be removed from the aircraft, thereby saving maintenance activities and cost as well as weight whislt mitigating the risk of ASM premature failure.
PV200 FEATURES
Robust 4-stages pre-filtration process
High effciency Ozone catalyst
Advanced VOC adsorbtion stage
Exceeds basic performance of OEM pre-filter
Direct fit replacement under FAA - EASA STC for existing 2-stage only pre- filters
PV200 BENEFITS
Removes additional harmful contaminants from incoming engine bleed air
Reduces Ozone levels to less than 1ppB (parts per billion)
Removes all VOCs that are damaging to the ASM's performance and reliability
Extends ASM life by thousands of hours
Easy to implement and fully reversible
Ordering Information
We recommend installation of the PV200 in conjunction with your next ASM replacement or where ASM time on wing is less than 3000 hours to ensure full benefit. Please note that older ASMs are already irreversibly damaged.


The PV200 Nitrogen Generation System (NGS) Life Extension Pre-Filter can be ordered from our distributor Satair as FAA-PMA approved Pall Part Numbers A290951 & A290951K1T under PQ1063CE.

Eligible for installation on 737-600, 737-700, 737-700C, 737-800, 737-900 and 737-900ER series aircraft via FAA-PMA and direct, one-for-one, form,  t and function approved replacements for OEM Parker Hanni n PN 2040025-205 and KIT2040025-305 under Pall Part Numbers Supplement Number 112.