PALL AEROPOWER P/N: 3CR0478
FILTER FITTING, 75 MICRON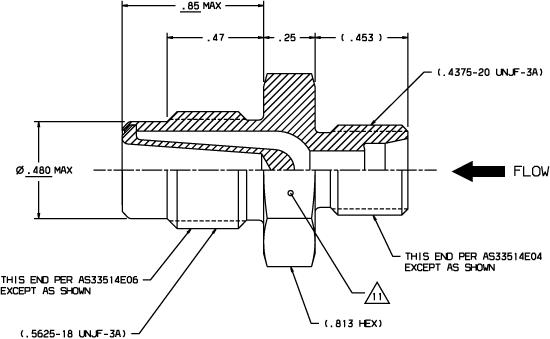 NOTES AND SPECIFICATIONS:
FILTRATION:  75 MICRON NOMINAL
EFFECTIVE FILTER AREA:  0.45 SQ. IN. MINIMUM.
ELEMENT COLLAPSE PRESSURE:  3000 PSID MINIMUM
CONSTRUCTION:  FILTER ELEMENT IS SPIN-SWAGED INTO FITTING
MATERIAL:
FITTING:  17-4 PH CRES HEAT TREATED TO H1025 CONDITION
ELEMENT:  15-5 PH CRES HEAT TREATED TO H1025 CONDITION
BOTH ITEMS TO BE PASSIVATED IAW ASTM-A-967
   OR AN EQUIVALENT PROCESS
PRESSURE RATING:  OPERATING: 3000 PSIG  BURST:  7500 PSIG
CLEAN PRESSURE DROP FLOWING 2.0 GPM OF SKYDROL 500B AT 80°F: 20 PSID MAXIMUM. (CALCULATED)
TEMPERATURE RANGE: -85°F TO 160°F.
STRUCTURAL REQUIREMENTS:  (DESIGN)
IMPULSE PRESSURE: 100,000 CYCLES MINIMUM AT 0-4500 PSI -0 AT 225°F± .20°F.
APPLIED TORQUE: 130 IN-LBS MINIMUM (FITTING ONLY).
Last Chance Filter Elements