By producing high-pressure gas for infra-red sensor cooling on missile guidance systems, the Pall immobilized canisters remove contamination, water, and carbon dioxide from the air entering the High Pressure Pure Air Generator system.
Features
Proprietary immobilization process
Resistance to vibration damage and 'dusting' (degradation of adsorbent material)
Low differential pressure & long service life
Benefits
Removal of fine particulate contamination
Removal of carbon dioxide
How Does it Work?
Any particulate contamination is removed by the filter meshes in the end of the canister.  Any carbon dioxide in the High Pressure Pure Air Generator system is adsorbed by the zeolite in the canister.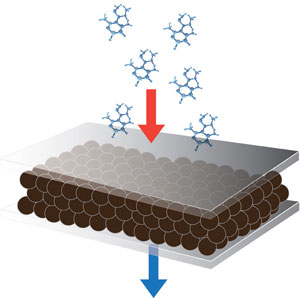 Principle of adsorption
Zeolites are known as molecular sieves because their narrow pore size distribution allows them to sieve molecules.  Depending on the contamination that needs to be removed, different zeolite types can be selected.
In-service experience has shown that simple mechanical retention is not sufficient to stop the adsorbent beads vibrating against each other and 'dusting'.  Pall canisters are immobilized using a unique, controlled process to form a physical bond. This is essential to ensure the filters can withstand the shock and vibration levels in military aircraft.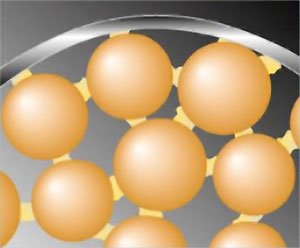 Ideally bonded adsorbent beads
These immobilized canisters are suitable for use in a wide range of air, land and sea environments.
Military aircraft
Military helicopters
Military vehicles

To determine if your application is suitable, contact your local Pall sales representative.