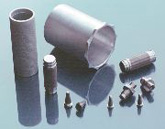 Need Help?

More Information

Description
Laser Drilled LCFs
In addition to PAC's traditional line of Rigimesh® last chance filters, we have developed and can now offer a line of laser drilled filters rated for 70-microns nominal and larger which can be used in those applications where a high collapse pressure or burst pressure requirement exists.
The laser drilled filter is most effective when there is a bi-directional flow requirement in a very restricted envelope.  Conventional mesh-type filters are not suitable for those applications because they require support cores in addition to multiple layers of mesh resulting in a costly filter with high pressure drop.
The laser drilled filter can also be used for washflow filter applications with ratings in the 70-micron range and in other geometries where the pressure drop is considered critical.  The laser drilled filters offer excellent wash flow and superior flow versus pressure drop characteristics.
The laser drilled filter can generally be designed into either a single-piece or two-piece assembly where reliability, weight and strength of construction are critical.
In addition to the selection of laser drilled filters we depict in this section, PAC can supply laser drilled versions of most of the other type of  LCFs pictured in the catalog.