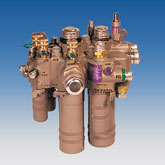 Need Help?

More Information

Description
A filter manifold combines a number of separate filtration components into a single unit. This results in a smaller space envelope and reduced total weight and cost.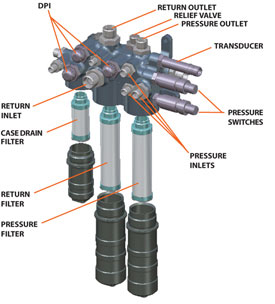 The manifold concept should be considered in the early phase of system design.
Features
Single, integrated package

Fewer components
Fewer connection points and couplings
Less Tubing (less fluid volume)
Fewer potential failure points

Single supplier for multiple components
Provides single-point maintenance
Engineered to meet OEM specifications
Benefits
Increased system reliability
Reduced system weight and complexity
Reduced overall cost
Reduced space envelope
Simplified logistics support
How Does it Work?
A filter manifold incorporates all the separate sub-components of the fluid system, including:
Filter Elements
High-performance filter elements
are used to protect the pressure, return, and case drain lines from particulate contamination.
Filter Bowls
Easily removable bowl contains the filter element. It incorporates a locking mechanism to prevent the filter bowl loosening under vibration in service
Monitoring Devices/Sensors
The Differential Pressure Indicator/Switch (DPI/DPS) indicates when the filter element is becoming blocked and needs to be changed. The manifold can also contain temperature and pressure sensors
Valve Components
Bypass Valve, Check Valve/Flow Control Valve, Shut-Off/Non-return Valve, System Relief Valve, Sampling Valve, Regulating valve
Shut-Off Diaphragm (optional)
This prevents loss of fluid during element change-out